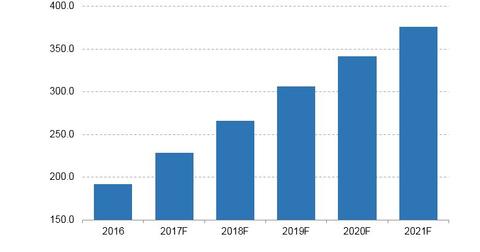 What Advertising Means to Yelp
By Neha Gupta

Updated
Advertising supplies most of revenues at Yelp
Nearly 90% of Yelp's (YELP) revenues in 3Q17 came from advertising, making Yelp another Internet company that heavily depends on advertising sales for most of its revenues.
Advertising contributed 89.7% of Yelp's total revenues in 3Q17, up from 89.3% of total revenues in 2Q17. Google parent Alphabet (GOOGL) and Twitter (TWTR) extracted 86.7% and 85.3% of their total revenues, respectively, from advertising, in 3Q17. For Facebook (FB) and Snap (SNAP), advertising supplied more than 98% of their total revenues in 3Q17.
Article continues below advertisement
Digital advertising industry outlook
Given digital advertising trends, significant exposure to the industry should be a boon for Yelp. According to business intelligence firms eMarketer and Magna, the digital advertising market continues to expand globally, thanks to shifts in media consumption and marketing technology. Magna predicts that global digital advertising growth will remain strong in the next five years, with the market expanding to $348 billion by 2022.
For its part, eMarketer estimates that the global digital advertising market will grow to $375.0 billion by 2021, compared with $191.9 billion in 2016.
Yelp's ad revenue growth slowed
What could be a concern about Yelp's advertising business is perhaps its advertising revenue growth, which has been slowing in recent quarters despite the bright industry outlook.
In 3Q17, Yelp's advertising revenues grew 18% YoY (year-over-year), but that was slower than the 19% YoY growth it registered in 2Q17 and the 24% growth it registered in 1Q17. At Facebook, advertising revenue growth accelerated between 2Q17 and 3Q17.