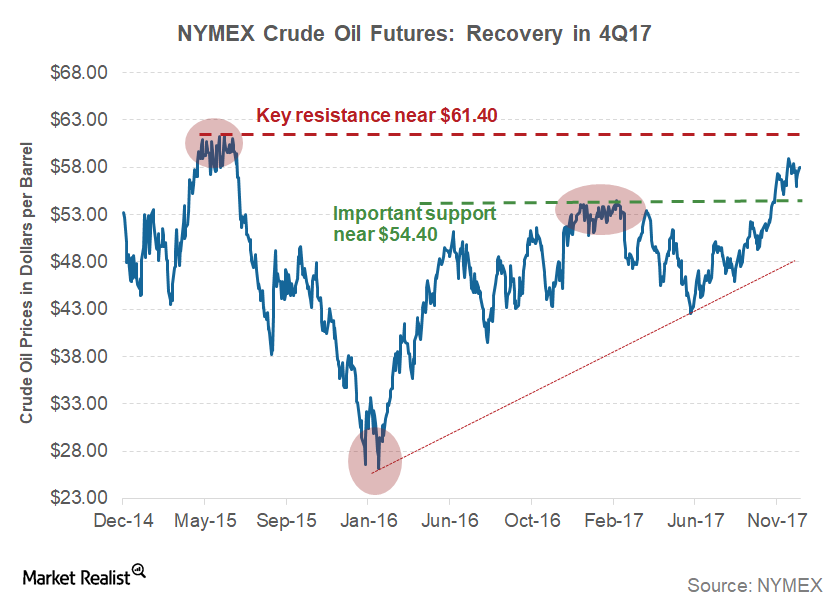 4Q17 Oil Price Recovery Could Hurt US Truck Demand
Recovery in oil prices
As of December 11, WTI (West Texas Intermediate) crude oil futures were trading at 57.99 per barrel. Oil prices have witnessed a sharp recovery of ~12.2% in 4Q17. Oil prices have risen 7.9% on the year-to-date basis. WTI crude oil futures are trading at the highest level since July 2015.
Article continues below advertisement
Technical analysis
Technical indicators were suggesting a positive bias in the underlying momentum for WTI crude oil prices. No major horizontal resistance lies below $61.40. A violation of this level could attract fresh buying going forward.
A key support area in WTI crude oil prices could be seen near $54.40. Last week, the U.S. Energy Information Administration released crude oil inventories data for the week ending December 1. According to the data, US crude oil inventories fell by 5.6 MMbbls (million barrels) during the week, which could keep WTI crude oil prices on a positive note.
Could it hurt US truck demand?
In the first 11 months of 2017, US auto sales (IYK) fell marginally. The weakness was primarily driven by a sharp fall in small car sales. In contrast, positive YoY (year-over-year) growth in US truck demand helped reduce the negative impact of fewer small car sales.
According to Autodata, US truck sales for General Motors (GM), Ford (F), Honda (HMC), and Toyota (TM) have risen 6.1%, 4.0%, 3.6%, and 10.8% in 2017.
Trucks and utility vehicles usually aren't very fuel efficient compared to small cars. A consistent sharp recovery in oil prices could hamper future truck and utility vehicle sales in the country.
Please visit Market Realist's Autos page for the latest updates in the industry.