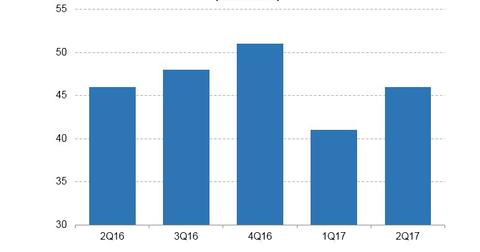 Why Zynga's Advertising Business Is Gripping Attention
By Neha Gupta

Updated
Rise of mobile gaming unsettles ad business
The shift to mobile gaming has not been all favorable for Zynga (ZNGA), and the company's advertising business has borne the brunt. This is because as gaming shifts from desktop to mobile platforms, Zynga is realizing that mobile advertising doesn't bring the same level of advertising revenue as desktop ads do. As such, Zynga has struggled to grow its ad revenues amid the rise of mobile gaming.
However, Zynga has shown a commitment to try to drive growth in its advertising business. The company said earlier this year that it would seek strategic partnerships to try to bolster its fortunes in the advertising market.
In 2Q17, it made an important step in this direction, announcing a strategic partnership with Unity, a global development platform with tools and technologies that could help Zynga unlock more revenue opportunities in the digital advertising market.
Article continues below advertisement
Ad revenue declines slowed in 2Q17
Zynga reported advertising revenues of $45.5 million in 2Q17, which was 1.0% lower (year-over-year). Notably, the decline in Zynga's advertising business eased in 2Q17, as advertising revenues fell 18% YoY in 1Q17.
It remains to be seen if Zynga's advertising business continued to improve in 3Q17. In 3Q16, Zynga generated advertising revenues of $48 million, which was 8.0% higher YoY.
Ad market presents $83 billion revenue opportunity
According to eMarketer, Zynga is competing for the $83 billion in US (SPY) digital advertising industry this year and more than $129.2 billion by 2021.
Facebook (FB), Alphabet (GOOGL), Twitter (TWTR), and Snap (SNAP), which obtain between 85% and 99% of their quarterly revenues from advertising, are also vying for control of the US digital advertising market. Advertising accounted for 22% of Zynga's consolidated revenues in 2Q17.