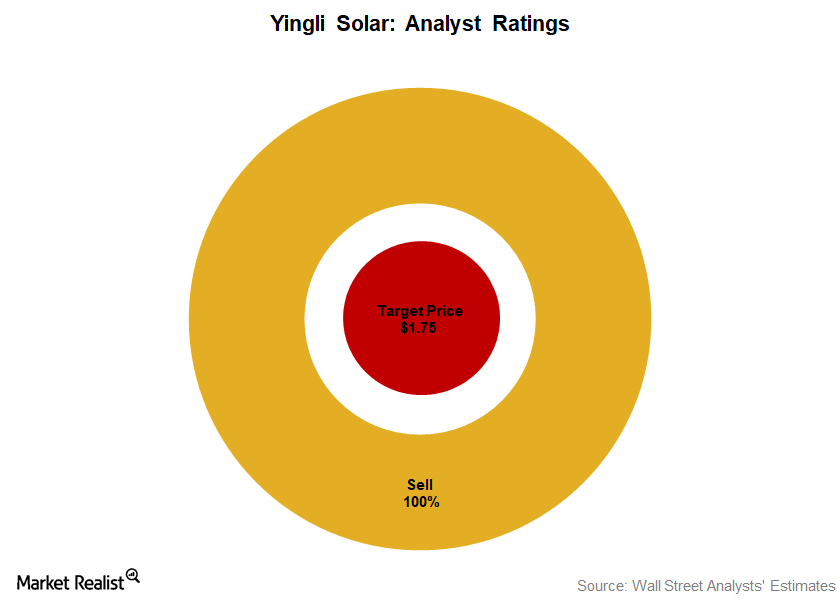 Yingli Solar Stock Has a 'Sell' Rating before Its 3Q17 Results
Analysts' rating
Currently, only one analyst is covering Yingli Solar (YGE) stock. The analyst gave the company a "sell" (or 100%) rating. Since June 2017, only one analyst has been following Yingli Solar stock. Axiom Capital downgraded Yingli Solar stock from a "buy" to a "sell" rating on November 16, 2016. Even after a year, Axoum Capital reiterated the "sell" recommendation on the stock.
As of November 22, 2017, Yingli Solar's consensus 12-month target price was $1.75. It has a downside potential of ~17.8% considering a price of $2.13 when the market closed on November 22, 2017.
Article continues below advertisement
Yingli Solar's consensus estimates
Analysts expect Yingli Solar to post muted earnings in 3Q17. They expect it to report an EPS (earnings per share) of -$2.61 compared to an EPS of -$2.40 in 2Q17 and -$2.80 in 3Q16.
For 3Q17, analysts expect an EBITDA (earnings before interest, tax, depreciation, and amortization) of -$23.0 million and an EBITDA margin of -9.5%. The expectations are lower on a year-over-year and quarter-over-quarter basis.
It should be noted that upstream solar (TAN) companies' profit margins like Canadian Solar (CSIQ), SunPower (SPWR), and JA Solar (JASO) might fluctuate based on the revenue recognition from their ongoing solar power projects during a particular period. In 3Q17, Canadian Solar and JA Solar posted a profit margin of 17.5% and 11.8% respectively, while SunPower reported a profit margin of 3.3%.
In the next part of this series, we'll discuss analysts' revenue estimates for Yingli Solar for the upcoming quarter. We'll also discuss whether the expectations are conservative or optimistic.