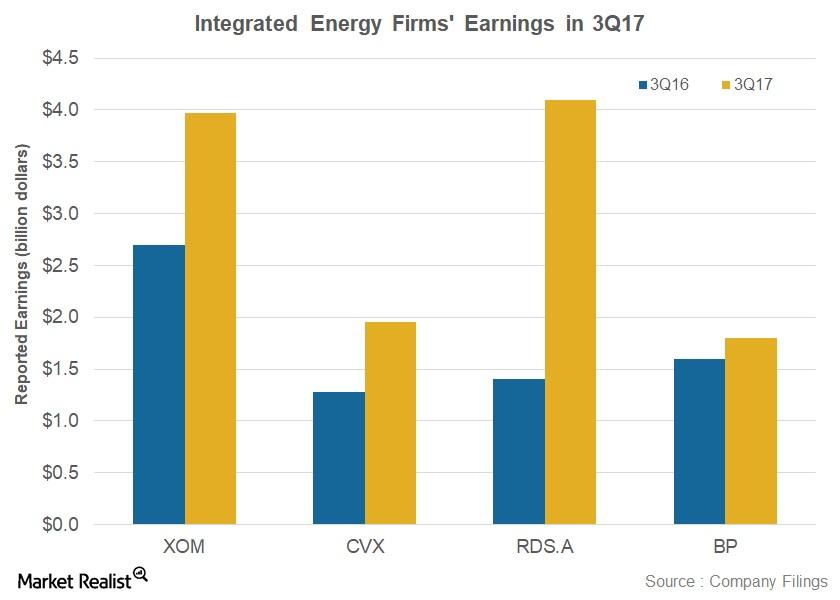 XOM, CVX, RDS.A, BP: Integrated Energy Firms' Results in 3Q17
Integrated energy firms' results in 3Q17
Article continues below advertisement
ExxonMobil's 3Q17 earnings
ExxonMobil (XOM) posted an increase in earnings from $2.7 billion in 3Q16 to ~$4.0 billion in 3Q17. This improvement in earnings was due to a rise in upstream earnings coupled with a rise in downstream earnings year-over-year (or YoY) in 3Q17. However, XOM's Chemical segment's earnings fell marginally in 3Q17 YoY.
Chevron's 3Q17 earnings review
In 3Q17, Chevron reported earnings of $1.9 billion compared to $1.3 billion in 3Q16. This jump in YoY earnings was due to growth in its upstream as well as downstream earnings.
The company's 3Q17 earnings also included $675.0 million of asset sales gains, $220.0 million of asset write-offs, and $112.0 million of foreign exchange losses. Excluding these items, Chevron's adjusted earnings stood at $1.6 billion in 3Q17.
Article continues below advertisement
Shell's 3Q17 earnings review
Shell's reported earnings rose from $1.4 billion in 3Q16 to $4.1 billion in 3Q17. Shell posted an adjusted profit of $4.2 billion in 3Q17, a rise of 47.0% over 3Q16.
This movement was due to a steep rise in upstream earnings in 3Q17 over 3Q16. Also, Shell's integrated gas and downstream earnings rose in 3Q17 compared to 3Q16.
BP's 3Q17 earnings
BP reported earnings of $1.8 billion in 3Q17 compared to $1.6 billion in 3Q16. However, BP's 3Q17 adjusted earnings stood at $1.9 billion in 3Q17.
BP's adjusted EBIT[1. earnings before interest and tax] rose in 3Q17 due to increased upstream earnings, which were led by higher crude oil and natural gas realizations. Its downstream earnings increased YoY. Also, Rosneft's (BP's equity stake in the Russian oil company) earnings rose YoY.
In the next part, we'll examine these firms' segmental performance figures.