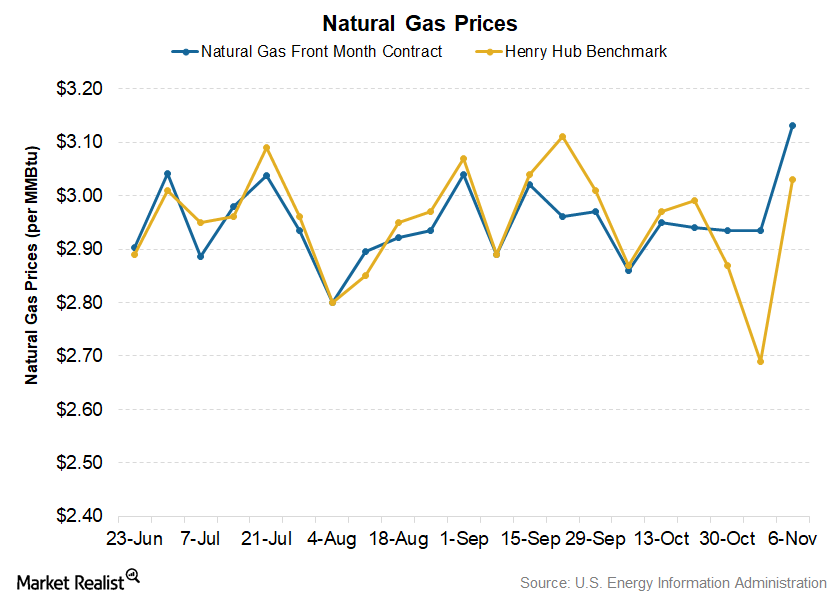 Winter Is Coming: How Will Natural Gas Prices React?
Natural gas prices
As of November 6, 2017, the Henry Hub natural gas spot price settled at $3.03 per MMBtu (million British thermal units). The reading is higher than $2.87 per MMBtu posted on October 30, 2017. The December US natural gas futures contract price closed at $3.13 per MMBtu on November 6, 2017.
According to the EIA's (U.S. Energy Information Administration) latest Short-Term Energy Outlook report on November 7, 2017, the average Henry Hub natural gas spot price in October was $2.88 per MMBtu—lower than $2.98 per MMBtu in September. An expected rise in natural gas consumption and exports in 2018 led the EIA to forecast a $3.10 per MMBtu average Henry Hub natural gas spot price in the coming year. It's a rise from an annual average of $3.01 per MMBtu in 2017.
Article continues below advertisement
Weather forecasts suggest that the temperatures are falling and winter is just around the corner. Cool weather will likely result in more demand for natural gas, which could cause the price to increase. A rise in natural gas prices might help natural gas producers like ExxonMobil (XOM) and Cabot Oil & Gas (COG) increase their margins.
Impact on coal producers
Strong natural gas prices might encourage utilities to use coal instead of natural gas. It could help coal (KOL) increase its market share. In contrast, a drop in natural gas prices could lead to a decline in coal's market share.
Coal producers like Cloud Peak Energy (CLD) and Alliance Resource Partners (ARLP) might benefit from high natural gas prices.
In the next part, we'll discuss crude oil prices during the week ending November 3.