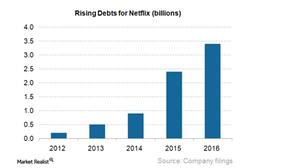 Will Rising Debt Be a Concern for Netflix?
By Aaron Hemsworth

Nov. 10 2017, Updated 10:30 a.m. ET
Mounting debt
Netflix (NFLX) continues to lead the video streaming space through huge investments in original content and movies. Its market expansion strategy, coupled with investments in original and local content, is being funded by large amounts of debt.
The graph above shows that Netflix's debt has increased 17 times in the last five years. Its streaming content obligations were $17 billion at the end of the third quarter of 2017, which adds up to nearly $20 billion of debt to date.
The above graph also shows that in the last two years, the company's debt level has increased significantly due to its entry into the European markets in 2014 and later in the Asian markets.
Article continues below advertisement
Competition driving debt level
The launch of video streaming services by Amazon (AMZN) and some low-cost players have stepped up competition for Netflix. Netflix continues to invest in original content, which has increased its debt level since 2014. This year, the company has issued senior notes worth $3 billion.
Mounting debt is also affecting the company's free cash flow. Over the years, Netflix hasn't recouped its positive free cash flow. Its interest expense has also been rising, which in turn is affecting the company's net profit margins. In the last five years, its interest expenses have risen nearly five times.
Subscriber increases
On the flip side, Netflix continues to add subscribers at a significant rate, which indicates that its investments could be benefiting the company. In the last five quarters, Netflix added an average of 5.2 million subscribers. Total subscribers are currently at 109 million. The company expects to reach 115.5 million by the end of 2017.
The company's debt-to-market capital ratio is ~4%, which is very low compared to its media peers Time Warner (TWX) and CBS (CBS) at 29% and 40%, respectively.
Netflix's decision to hike its price for domestic customers could improve its free cash flow to some extent. These positives could also continue to mitigate the company's mounting debt going forward.