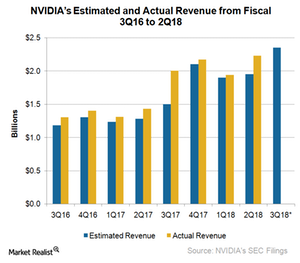 Will NVIDIA's Record Revenue Trend Continue?
NVIDIA on a growth path
In the previous part of the series, we saw that NVIDIA (NVDA) is currently in the midst of a technology growth cycle where its GPUs (graphics processing units) are being adopted in various gaming, data center, automotive, and IoT (Internet of Things) devices.
NVIDIA's years of research in deep learning are finally paying off with revenue growth of around 50% YoY (year-over-year) for the past four quarters. This growth was largely driven by the company's shift to 14-nm (nanometer) Pascal GPU and its adoption as the preferred hardware for deep learning tasks.
Article continues below advertisement
NVIDIA and competition
NVIDIA has enjoyed a near monopoly in deep learning and AI (artificial intelligence) over the last one year. Now, the company has shifted to the next-generation 10-nm Volta GPU, but the competition has also intensified. Google developed (GOOG) the TPU (tensor processing unit), Advanced Micro Devices (AMD) developed the Radeon Instinct GPU, and Intel (INTC) developed the Nervana Neural Network Processor. All three companies have been comparing their chips with NVIDIA's previous generation Maxwell or Pascal chips.
NVIDIA's record revenue trend
In fiscal 2Q18, NVIDIA's revenue rose 56% YoY to $2.2 billion, largely driven by strong demand in the data center market. On a sequential basis, the company's revenue rose 15% largely driven by strong demand in the cryptocurrency market. For fiscal 3Q18, the company expects its revenue to grow 17% YoY to $2.35 billion, whereas Wall Street analysts expect the company to report revenue of $2.36 billion.
AMD's revenue rose 26% YoY in fiscal 3Q17 way above the management's conservative guidance of 15% YoY revenue growth. The growth was largely driven by strong demand for Ryzen CPUs (central processing units) and Radeon GPUs and increasing prices of GPUs. Even Intel reported better-than-expected earnings in fiscal 3Q17 largely driven by growth in its data-centric businesses.
NVIDIA has been posting better-than-expected revenue for the past eight quarters, beating its own revenue guidance by an average 9.4%. If the company continues to maintain this trend, its fiscal 3Q18 revenue could exceed $2.57 billion. Looking at the above trends of Volta GPU and cryptocurrency, there is a strong possibility that NVIDIA could exceed its revenue estimate in fiscal 3Q18.
However, AMD posted weaker guidance, and Intel posted moderate growth estimates for fiscal 4Q17. It remains to be seen if NVIDIA will follow its rivals and post weaker or moderate revenue guidance or go against the flow like it has been doing for the past 12 months.
Next, we'll see how these revenue trends could convert into profits.