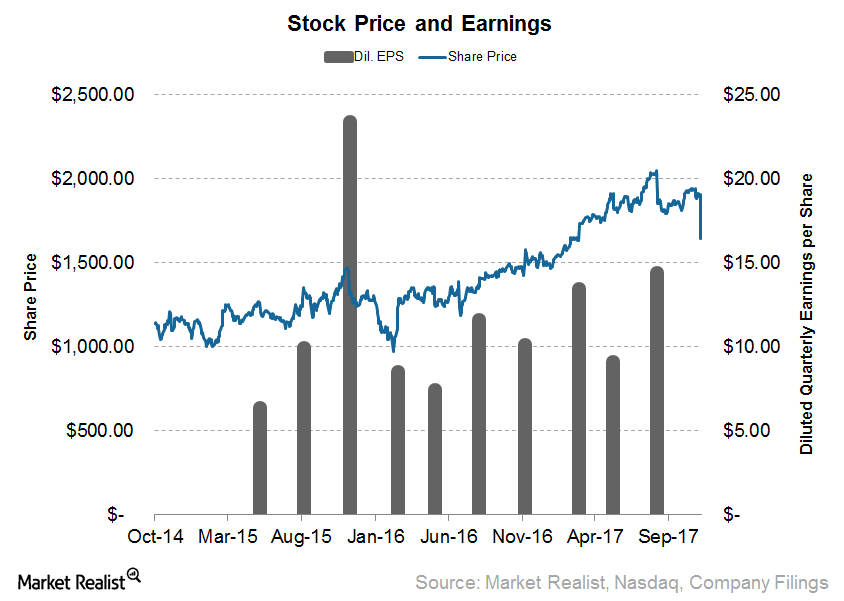 Why Priceline Stock Fell 14% after 3Q17 Earnings
Priceline 3Q17 earnings
The Priceline Group (PCLN) reported its third-quarter financial results after market hours on November 6. PCLN beat analyst estimates for both revenues and earnings, led by strong performance in its online travel brand, Bookings.com. Gross travel bookings rose 18% year-over-year or YoY to $21.8 billion, higher than its own guidance of 11%–16% growth. The growth in bookings was led by room nights booked rising 18.6% YoY. Rental car days grew 5.5% YoY, and air tickets booked fell 11.8% YoY.
The company recorded revenues of $4.4 billion, a 17.5% increase YoY, up from $3.7 billion in the same period a year ago. This total was above the consensus estimate of $3.5 billion. The company reported earnings of $35.2 per share, ahead of analyst estimates of $34.25 per share.
Article continues below advertisement
Stock movement
Despite the estimate-beating performance, the Priceline Group fell almost 13.5% on Tuesday, the day after the company's earnings, to close at $1,645.7. This fall was due to the company's 4Q17 guidance missing analyst estimates. We'll discuss this miss in detail later in this series.
Rival TripAdvisor (TRIP) reported earnings yesterday, and it saw its stock fall 23.2% on disappointing earnings. Competitor Expedia (EXPE) reported earnings in October, and it had also cast fear among investors about the future growth of the online travel space with its reduced guidance. The stock fell 2.7% on Tuesday, November 7. Rival Ctrip.com (CTRP) was almost flat at -0.02% on the same day. The broader market tracked by the SPDR S&P 500 ETF Trust (SPY) also fell 0.07%.
Series overview
In the following part of this series, we'll look at Priceline's third-quarter performance. We'll analyze key trends and review the guidance for 2017. We'll also take a look at analyst estimates and recommendations for PCLN. We'll finally wrap up the series with a discussion of PCLN's valuation multiple.