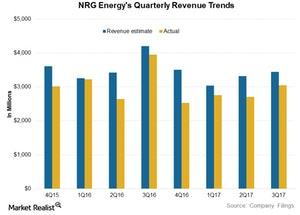 Why NRG Energy Missed 3Q17 Earnings Estimates
NRG stock surged 5%
Princeton-based NRG Energy (NRG) reported its third quarter financial results on November 2, 2017. Its analyst-adjusted earnings were $0.61 per share for the quarter ended on September 30, 2017, against its earnings of $0.64 per share in the same quarter last year. The Wall Street analyst consensus had forecasted earnings of $0.91 per share for the reported quarter.
The largest merchant power player in the country, NRG Energy reported total revenues of $3.1 billion during the reported quarter against its revenues of $4.0 billion in 3Q16.
Article continues below advertisement
Earnings drivers
NRG Energy's mainstay, its generation segment, reported earnings of $258 million in 3Q17 against its earnings of $372 million for the comparable period last year. NRG Energy's principal territories experienced milder weather during the quarter, which was the primary factor that affected its generation business. Cooling degree days in August 2017 were at their lowest since 2004.
NRG management intends to sell its renewables business and yieldco, NRG Yield, under its transformation plan. In 3Q17, NRG Yield (NYLD) earned $41 million against its earnings of $50 million in the corresponding quarter last year. The renewables segment reported a loss of $4 million during the reported quarter against earnings of $2 million in 3Q16.
Sticking to the transformation plan
NRG Energy's transformation plan aims to divest 50%–100% from NRG Yield and renewables. The plan also aims to trim $13.0 billion of total debt from NRG Energy's books from its current outstanding debt of $19.0 billion. NRG stated in its 3Q17 earnings that the company has realized $92 million, or 142%, of its 2017 cost-cutting target as of the end of 3Q17.
NRG stock rose 4.5% on November 2, 2017, likely due to the company being on track in the implementation of its transformation plan. Broader utilities (XLU) (VPU) rose 0.4% during the day.
NRG stock witnessed an unusual surge in volumes on November 2, 2017. A total 17.5 million shares exchanged hands during the day against its three-month average volume of 5.3 million.