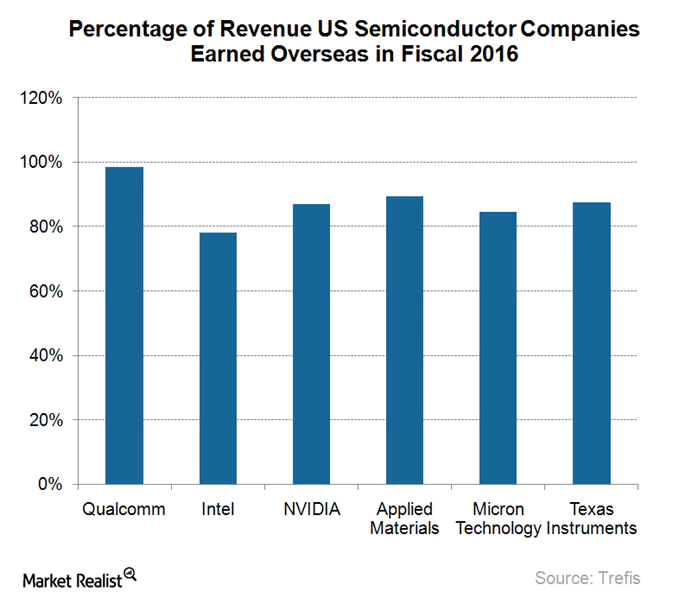 Why Intel Stock Rose 19.5% in October
Intel stock rose 19.5% last month
US-based (SPY) tech (QQQ) giant Intel (INTC) saw its stock rise 19.5% in October 2017 to close at $45.49. INTC stock is trading 37.0% above its 52-week low of $33.23 and 0.7% below its 52-week high of $45.80.
Intel's stock movement has been sluggish over the last few years, and the company is trading at a 16-year high in the last week or so. Peers Advanced Micro Devices (AMD) and NVIDIA (NVDA) generated returns of -14.0% and 15.0%, respectively, in October 2017.
Article continues below advertisement
What drove Intel stock higher?
One of the key drivers for Intel's rising stock price was the release of the Republican tax reform proposal in September 2017. Intel could be one of the biggest beneficiaries if this proposal is passed and signed into law.
The tax reform bill proposes that corporate taxes in the US be reduced to 20% from 35%. This would reduce the tax burden substantially on profitable companies such as Intel.
Intel has capital expenditures (or capex) of ~$10.0 billion, which is reported in the company's balance sheet and is depreciated over the life of the asset. However, the tax reform proposal would allow Intel to report spending on machinery and equipment as an expense and reduce its taxable income.
Intel's treasurer, Ravi Jacob, noted that approximately 50% of the company's $20.0 billion cash balance is held in overseas markets. If the US government reduces the repatriation tax to 10% or less, Intel would use the tax break to repay its $32.0 billion debt and issue special dividends and share repurchases.
Intel reported its 3Q17 earnings on October 26, 2017, and reported non-GAAP[1. generally accepted accounting principles] EPS (earnings per share) of $1.01, beating analyst estimates of $0.80 by 26%.