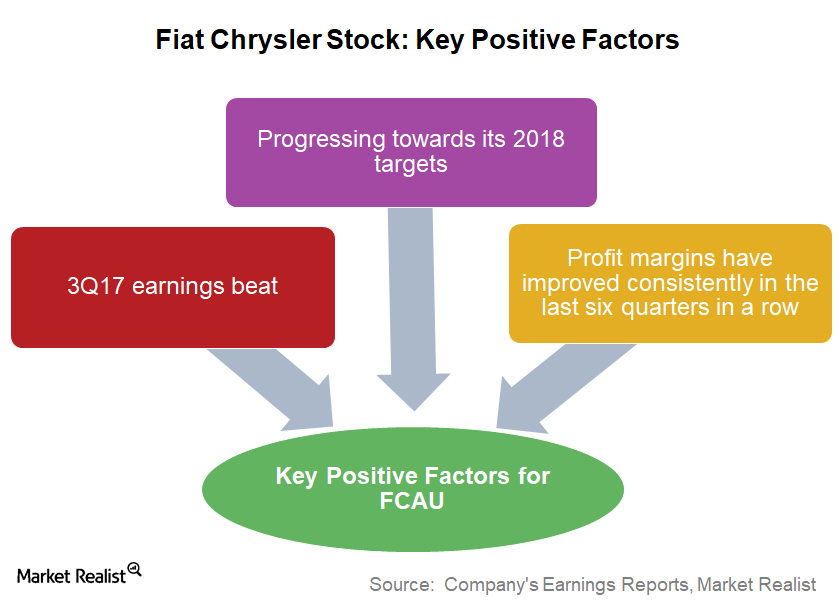 Why Fiat Chrysler's Stock Price Has Doubled in 2017 Year-to-Date
Fiat Chrysler stock
In the week ended November 3, Fiat Chrysler stock (FCAU) continued its journey upward and posted solid gains of 5.8%. In the previous week, its stock rose 2.6%. Despite these gains, FCAU ended October in negative territory with 3.1% value erosion.
Nevertheless, the company's stock has gained 99.8% YTD (year-to-date) through November 3 against the S&P 500 benchmark's (SPY) 15.6% YTD gains. Plus, 3Q17 was Fiat Chrysler's best quarter since it was listed on the NYSE in October 2014. Its stock registered massive gains of ~69.2% in 3Q17.
Article continues below advertisement
Consistent improvement in profitability
On October 24, FCAU announced its 3Q17 results. The company reported a 25% YoY (year-over-year) rise in its 3Q17 earnings per share to 0.59 euros (~$0.70). Due to weaker vehicle sales in the North American region, the company's global revenues fell 1.6% YoY during the quarter.
On the brighter side, FCAU reported solid gains in the Latin American region in 3Q17. Its revenues rose 40.0% YoY.
The company's improved operating performance and lower financial charges helped it post stronger profit margins in the last quarter. The third quarter of 2017 was the sixth consecutive quarter in which Fiat Chrysler's profit margins witnessed YoY expansion, which could be driving optimism on Wall Street in 2017.
US sales in October 2017
In October 2017, Fiat Chrysler's US sales fell for the 14th consecutive month and dropped 13.0% YoY. In the last few quarters, FCAU has been cutting its US fleet sales to rental car companies to improve profitability. In October, its US fleet sales fell 43.0% YoY, which hurt its total US sales for the month.
On November 3, Fiat Chrysler stock posted an all-time high of $18.33 and settled at $18.15. This peak could act as an immediate resistance level this week, and a breach of this level could attract fresh buying.
In the next part, we'll look at Tesla stock's recent price action.