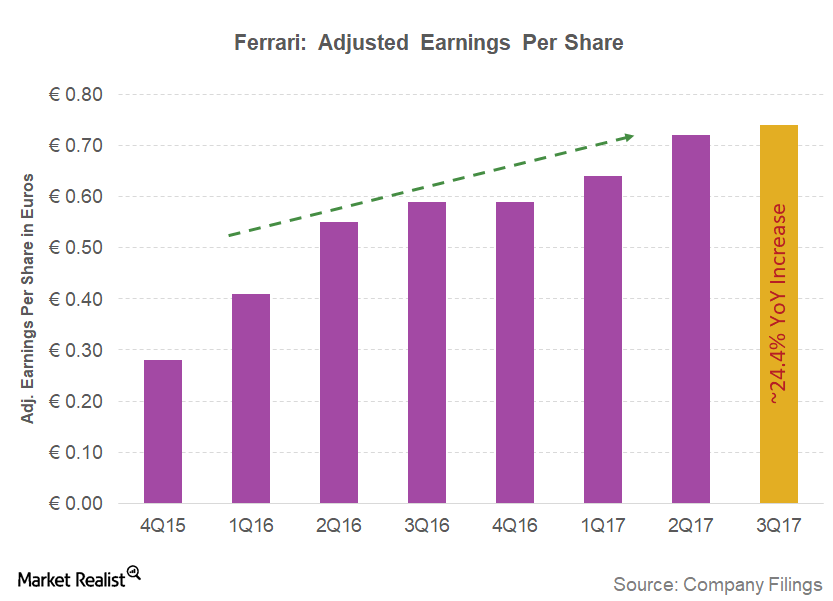 Why Ferrari's 3Q17 Results Failed to Impress Investors
Ferrari's 3Q17 earnings
Ferrari (RACE), the popular Italian luxury carmaker, released its 3Q17 earnings results on November 2, 2017. RACE's adjusted earnings stood firm at 0.74 euros, or $0.86, per share in the third quarter, which was about 25.4% higher than its adjusted EPS of 0.59 euros in the same quarter of 2016. The company's 3Q17 results also beat analysts' estimates of $0.68, or $0.79, per share.
Article continues below advertisement
Why weren't investors impressed?
On the day of the 3Q17 earnings release, Ferrari stock opened $118.42, down 1.3% from the previous session's closing price. The stock extended these losses later in the session and settled at $117.11, registering a drop of 2.4% for the session. Despite solid year-over-year growth in its 3Q17 earnings, which also beat analysts' estimates, investors' higher expectations could be the primary factor that drove pessimism on Wall Street.
Ferrari also marginally revised its 2017 outlook upward during the 3Q17 earnings event. However, this marginal rise in outlook was not enough to please investors. On November 1, a day before the 3Q earnings announcement, Ferrari stock posted an all-time high near $121.12 and maintained stellar YTD (year-to-date) gains of 106.4% against the S&P 500 Index's (SPY) 15.2% YTD gains. The company's extraordinary Wall Street gains already reflected investors' great expectations for its 3Q17 earnings.
Article continues below advertisement
Nevertheless, as of November 2, Ferrari stock was still trading with impressive 101.4% YTD gains despite the 2.4% dip on the day of its 3Q earnings release. In 2017 so far, Ferrari stock has outperformed all mainstream automakers (XLY). General Motors (GM), Fiat Chrysler (FCAU), and Ford were trading with 22.3%, 96.6%, and 2.4% YTD gains, respectively.
Series preview
In this series, we'll take a look at the key highlights of Ferrari's 3Q17 earnings, its revenues, and profitability. We'll explore what factors drove the company's third-quarter earnings. Later in the series, we'll take a look at some important factors that drove the company's profit margins higher in the third quarter.