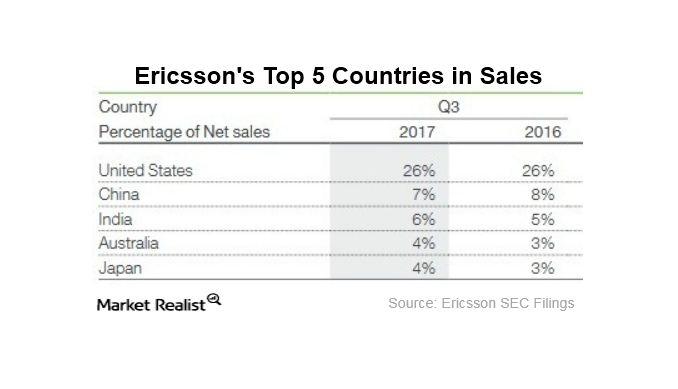 Why Ericsson's China Sales Are Falling
China's contribution to top line fell to 7.0%
Ericsson (ERIC) reported a fall in sales in mainland China (MCHI) in 3Q17. China is one of Ericsson's top five countries in sales. The other countries on the company's top five list are the US (SPY), India (INDA), Australia, and Japan (EWJ).
In 3Q17, China's contribution to Ericsson's top line slipped to 7.0% from 8.0% in 3Q16. By contrast, the contribution from the US, Australia, and Japan were steady YoY (year-over-year), while India's contribution to its top line rose to 6.0% from 5.0% in 3Q16.
Article continues below advertisement
China weakness dragged down Ericsson's 3Q17 revenues
As a result of the weakness in China, Ericsson's Northeast Asia sales fell 9.0% YoY in 3Q17, and this had an adverse impact on Ericsson's top line. The company's consolidated revenues fell 6.0% YoY in 3Q17.
Ericsson's China sales fell in 3Q17 due to the normalization of the market after a period of significant 4G deployment. According to Ericsson, China used to represent more than 60% of global 4G volumes.
Ericsson eyeing China's transition to 5G
But China is still a promising market for Ericsson. The company is positioning itself to capitalize on the country's transition to 5G networks. China has a rapidly expanding mobile video market, according to eMarketer.
With growing demand for mobile data due to heavy consumption of mobile video, operators in China have been working to enhance their networks, and Ericsson is helping some operators. In August, the company teamed up with China Unicom, a network operator in China, to launch a commercial 1 Gbps (gigabit per second) LTE (long-term evolution) network.