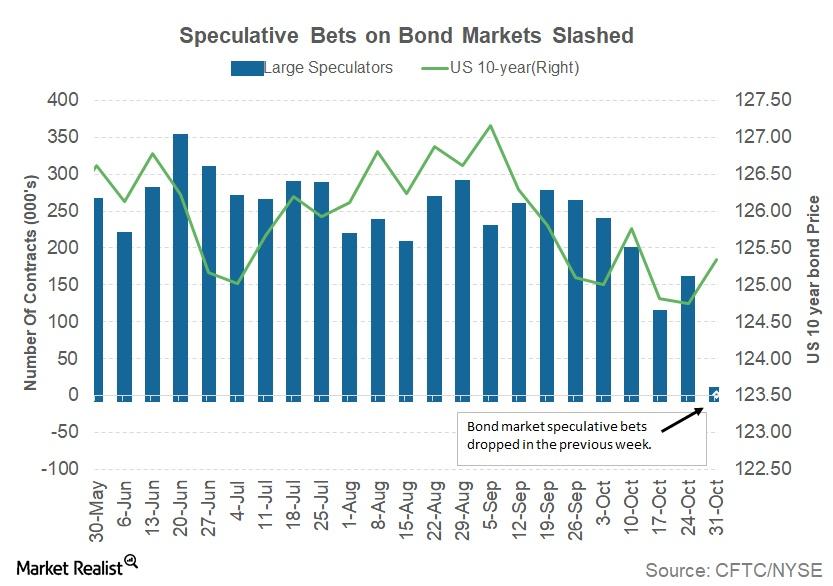 Why Did Bond Yields Fall Last Week?
Bond yields moved lower last week
US bond markets (BND) experienced volatility last week as markets reacted to the FOMC statement, the nomination of the new US Federal Reserve chair, and mixed economic data. US non-farm payrolls bounced back in October, but the number of jobs added was lower than the consensus expectations. Manufacturing indexes reported last week displayed continued growth but were a tad below expectations. None of these developments altered the chances of a December rate hike but impacted longer-term yields with the US 30-year bond yield falling by 11 basis points for the week.
The Fed watch tool from the Chicago Mercantile Exchange (or CME) shows a 96.7% probability of a Fed rate hike in the December meeting.
Article continues below advertisement
Bond market performance and speculator positions
For the week ending November 3, the ten-year yield (IEF) closed at 2.335, losing 8 basis points or bps compared to the previous week's close. The two-year yield (SHY) closed at 1.61 (up by 2 bps), and the longer-term 30-year yield (TLT) closed at 2.81 (down by 11 bps) in the previous week.
As per the latest "Commitment of Traders" (or COT) report released on November 3 by the Chicago Futures Trading Commission (or CFTC), speculators drastically cut their bullish positions. The total net bullish positions as of Tuesday, October 31, were 2,724 contracts, compared to 153,597 contracts a week before. Investors might have been expecting a hawkish statement from the US Fed on November 1 and could have cut back on long bond traders. The statement, however, was dovish, and bond markets rose after the statement.
Will bond markets continue their ascent?
Bond (AGG) markets have no economic data to react to this week, but any escalation of geopolitical tensions from Saudi Arabia could lead to a rise in demand for bonds. With the December rate hike mostly priced in, economic data up until the December FOMC meeting isn't likely to have a major impact on markets.
In the next part of this series, we'll examine the reasons behind the euro's sharp fall in the previous week.