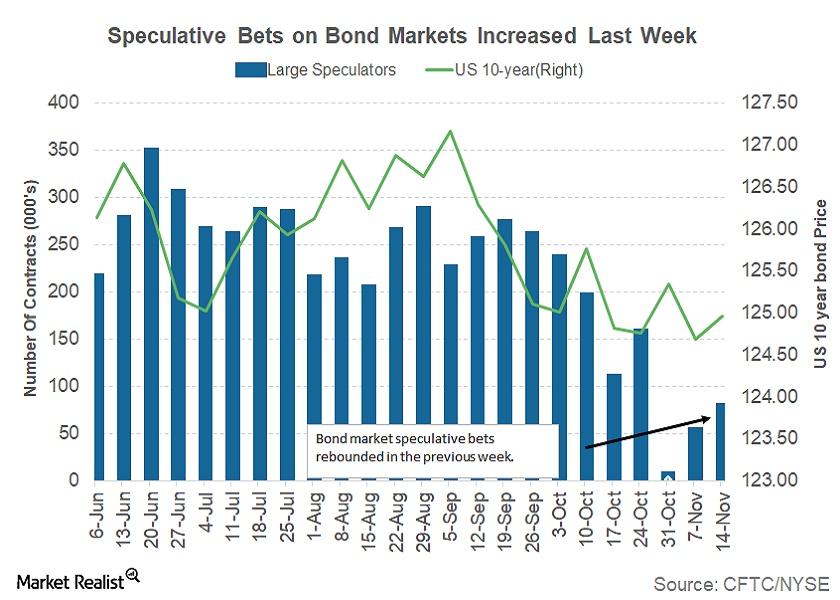 Why Are Bond Market Investors Worried about Yield Curve Flattening?
Uneven moves in bond yields worrying investors
The US bond markets (BND) remained concerned about the flattening yield curve last week. The possibility of tax reform delays is lowering investor expectations for the long-term inflation rate. When inflation expectations decline, the expectation for future rate hikes also declines, which could lead to uneven changes in long-term and short-term bond yields. Short-term yields increase faster than long-term yields, resulting in a flattening yield curve. An inverted yield curve is a warning sign of a recession, and that is the reason markets get nervous when the yield curves begin to flatten.
Article continues below advertisement
Bond market performance and speculator positions
For the week ending November 17, the ten-year yield (IEF) closed at 2.34, falling by six basis points as compared to the previous week's close. The two-year yield (SHY) closed at 1.7, up by seven basis points, and the longer-term 30-year yield (TLT) closed at 2.8, down by 11 basis points last week.
As per the latest Commitment of Traders (or COT) report released on November 17 by the Chicago Futures Trading Commission (or CFTC), speculator long positions increased for the second consecutive week. The total net bullish positions as of Tuesday, November 14, were 74,836 contracts as compared to 50,063 contracts a week before. Falling bond yields are likely to push prices higher in the coming weeks, so speculators are positioning for higher bond prices.
The week ahead for the bond markets 
In this holiday-shortened week, bond markets (AGG) are likely to continue with last week's trend. Bond yields are likely to remain under pressure as the tax bill uncertainty could remain in focus. The FOMC November meeting could confirm a December rate hike, but uncertainty about future rate hikes and inflation could lead to further flattening of the yield curve.
In the next part of this series, we'll understand why the euro continued to appreciate against the US dollar in the previous week.