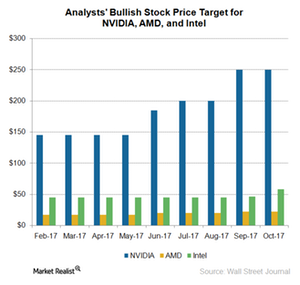 Why Analysts and Investors Are Bullish on NVIDIA
Analysts and investors are bullish on NVIDIA
NVIDIA (NVDA), a name that has caught investor attention, has been continuously making new records over the past 12 months. The stock price crossed $200.0 at the end of October 2017. This strong growth has forced Wall Street analysts to increase their price target for the stock every month or two.
NVIDIA's rising stock price is a result of investor optimism around the company's strong growth in gaming and data center markets. Investors are slowly pricing in the upcoming growth opportunity from the autonomous driving market. Recently, many analysts have raised their price target on NVIDIA even though rival Advanced Micro Devices (AMD) stock price dropped 18% after the latter released weaker guidance for fiscal 4Q17.
Article continues below advertisement
Why are NVIDIA's fiscal 3Q18 earnings important for investors?
Investors will carefully watch NVIDIA's fiscal 3Q18 earnings, as it is the first full quarter that the company will report sales from its next-generation Volta GPU (graphics processing unit). The sales figure will indicate whether the company can continue the triple-digit YoY (year-over-year) growth trend in data center revenue it has seen in the past five quarters even with competition cropping up from AMD and Intel (INTC).
Intel has announced its upcoming Nervana Neural Network Processor to support AI (artificial intelligence) tasks. The company aims to launch the processor by the end of 2017. AMD has also launched its Radeon Instinct GPUs for the data center.
Another reason why investors will be interested in NVIDIA's upcoming earnings is to see whether the GPU demand wave from cryptocurrency miners is still hot or not. Crypto cards added about $250 million to NVIDIA's sales in fiscal 2Q18. In the fiscal 2Q18 earnings call, NVIDIA's chief executive, Jen-Hsun Huang, stated that the cryptocurrency market is here to stay. Although the demand may not be as high as it is at present, demand could still be there.
NVIDIA's stock is rallying ahead of fiscal 3Q18 earnings. Next, we'll look at NVIDIA's stock momentum.