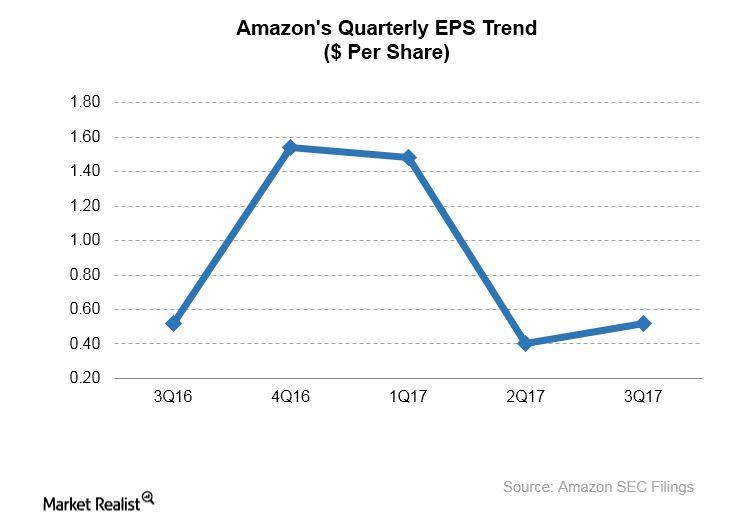 Why Amazon Reported Flat EPS Growth In 3Q17
Net income rose to $256 million
Although Amazon's (AMZN) revenue and net income grew year-over-year in 3Q17, the company's EPS (earnings per share) stayed flat.
Amazon's 3Q17 revenue of $43.7 billion was up 34% year-over-year, beating consensus estimates of $42.1 billion. Strong growth in the cloud computing division, Amazon Web Services, the contribution from the recently acquired organics foods retailer Whole Foods, and favorable foreign exchange impact supported revenue growth in the latest quarter.
Amazon posted net income of $256 million in 3Q17, up from $252 million in 3Q16. Despite the year-over-year improvement in net income, Amazon's EPS for 3Q17 was flat year-over-year.
Article continues below advertisement
Rise in share count dilutes EPS
Amazon posted 3Q17 EPS of $0.52, exactly the same figure the company reported a year ago. What happened? The answer can be found in examining changes in Amazon's shares outstanding. The company finished 3Q17 with 503 million shares outstanding, compared with 496 million shares outstanding at the end of 3Q16. Therefore, Amazon's shares outstanding rose by about 7.0 million in the span of one year, and this rise might have diluted EPS in the latest quarter.
The chart above shows the trend line of Amazon's quarterly EPS.
Impact of stock-based compensations
The rise in Amazon's shares outstanding could be due to stock-based compensations. The company reported stock-based compensation of $1.1 billion in 3Q17, compared to $776 million in 3Q16.
Amazon continues to invest in overseas expansion. The company recently announced the roll-out of Alexa and Echo in India (INDA) and Japan (EWJ) and launched its Amazon Business Prime Shipping in the United States (SPY) and Germany (EWG). It should be interesting to see how these moves impact future EPS.