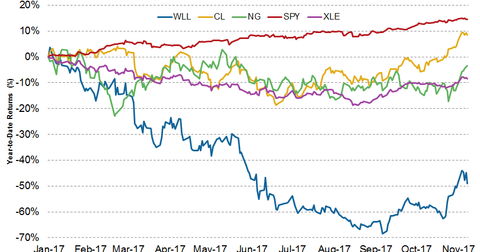 Whiting Petroleum Stock down after Announcing Reverse Stock Split
By Keisha Bandz

Updated
Whiting Petroleum announces a reverse stock split
Whiting Petroleum (WLL) stock fell 1.1% in the week ended November 10. On November 8, Whiting announced a one-for-four reverse stock split. Plus, the total number of common stock Whiting is authorized to issue changed from 600,000,000 shares to 225,000,000 shares.
On a split-adjusted basis, WLL's stock fell ~5.6% on November 9 following the announcement.
Since the start of this year, WLL stock has fallen ~49.1%.
As you can see in the above chart, WLL's movements have been tracking movements in the price of crude oil (USO) (UCO). Moreover, WLL's upbeat 3Q17 earnings had also supported its stock
However, WLL's returns since the beginning of the year are significantly lower than crude oil's. Crude oil prices have risen 8.4% since the beginning of the year. WLL has also fared poorly compared to the broader energy ETF, the Energy Select Sector SPDR ETF (XLE), which has fallen ~8.6% since the beginning of the year. Both WLL and XLE have performed poorly compared to the broader market (SPY)(SPX-INDEX), which has risen ~14.6% since the beginning of the year.
What could be the rationale behind the reverse stock split?
WLL had announced its reverse stock split decision earlier in September, believing that it "may improve marketability and facilitate its trading."
Usually, the impetus behind reverse stock splits is to meet stock exchange requirements. For example, to remain listed on the New York Stock Exchange, a stock has to avoid trading below $1.00 for an extended period. However, it doesn't impact shareholders' equity interests or voting rights.
Given that WLL's stock fell 6.5% on September 7, when WLL's first announced its decision about the reverse stock split, and fell 5.6% on November 9, when the reverse stock split became effective, the move may not have been received well by the markets.
However, investors continue to watch to see whether WLL management announces further changes in its structure or strategy.
Keep watching Market Realist for weekly updates on WLL stock prices.