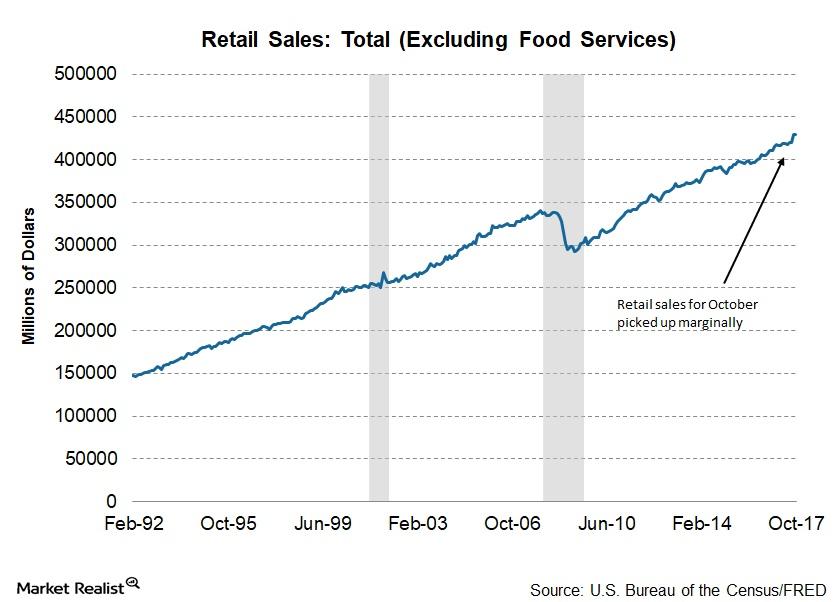 Which Industry Helped Retail Sales Grow in October?
Retail sales rose in October
The United States Census Bureau releases a monthly report on retail sales in the country. The Census Bureau conducts an advance monthly survey of retail trade and food services companies. The survey results are used to calculate an early estimate of monthly sales for the industries surveyed.
According to the latest report released on November 15, advance estimates of US retail (XRT) and food services for October 2017 totaled $486.6 billion, an increase of 0.2% compared to the previous month's reading.
Article continues below advertisement
Which sector of retail sales improved the most?
According to the October retail sales report, the auto (CARZ) sector's sales improved the most, followed by sales at bars and restaurants, and food and beverages. Sales in the auto sector received a boost after the hurricanes as consumers replaced their damaged cars.
Core sales—excluding energy (XLE), building materials, and auto sales—also rose 0.4% in October, which is a positive sign for the economy.
In the October retail (RTH) sales report, sales were down in the building material sector and at gas stations. The building material sector could increase with the rebound in construction activity in hurricane-battered regions.
Sales at gas stations are dependent on crude oil prices, which declined in September as production in refineries in the South resumed a normal pace.
Takeaway from retail sales
Retail sales have been increasing but are still below the long-term average. Retail sales have been below the long-term average since the onset of the 2008 recession. Sales from e-commerce (IBUY) sites have increased in the last decade and are posing tough completion to brick-and-mortar establishments.
The October retail sales report adds to the list of positive economic data in October. These sales could increase as we head into the holiday season.
The economic data discussed in this series reinforces the view of an expanding US economy. We could expect further expansion if the proposed tax cuts are implemented.