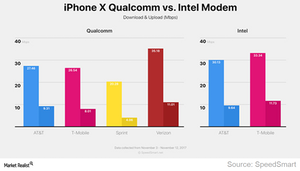 What's Happening with Intel's Mobile Business?
Is Intel the AI inside Google's Pixel 2 smartphone? 
Intel's (INTC) CCG (Client Computing Group) reported flat YoY (year-over-year) revenue growth in fiscal 3Q17, with the increase in notebook shipments offsetting the declines in desktop shipments. Another contributor to the CCG was Intel's mobile solutions.
In 2016, Intel discontinued the Atom processors used in smartphones and tablets due to competition from Qualcomm (QCOM). Intel exited the mobile processor market but continued to operate the mobile modem business.
Article continues below advertisement
Recently, there have been media reports claiming that Google's (GOOG) new Pixel 2 and Pixel 2 XL smartphone features custom Pixel Visual Core chip developed by Intel. The chip boosts AI (artificial intelligence) and image processing on smartphones while improving battery life. Even Apple (AAPL) has equipped its new iPhone X with a custom "neural engine" chip.
In the Pixel 2 XL teardown, device repair website iFixit found a Pixel Visual Core chip inside the smartphone, and it contained the serial number "SR3." Intel chips generally use the same numbering format.
A Google spokesperson sent an email to CNBC that stated that Google worked with Intel to build a custom Pixel Visual Core as no existing AI chips met its requirements. But neither of the two companies officially declared their involvement in any such chip.
Performance of Qualcomm and Intel modems on iPhone X
While it's not confirmed whether Intel started developing AI chips for smartphones, one thing that is confirmed is that Apple's new iPhone 8 and iPhone X feature Intel's and Qualcomm's modems.
The initial test by SpeedSmart shows that iPhones with Intel modem perform better than the ones with Qualcomm modem. This is a completely opposite outcome of what Cellular Insights concluded while testing the iPhone 7 in 2016.
However, SpeedSmart test results are not conclusive as they only measure speed, without taking into consideration variables such as location, cell signal, or LTE (long-term evolution) bands. Moreover, their sample size is very small.
If SpeedSmart test results turn out to be accurate after thorough analysis, it could be because Apple artificially limited the performance of Qualcomm's modem to reduce performance difference with Intel modems.
Intel's mobile business benefits from Apple-Qualcomm lawsuit
Intel is benefitting from the legal battle between Qualcomm and Apple. In the latest updates of the legal battle, a Bloomberg report stated that Qualcomm accused Apple of sharing a proprietary code with Intel.
A recent report from the Wall Street Journal (citing an anonymous source) stated that Apple might completely ditch Qualcomm's modems in favor of Intel's and MediaTek's modems in its next iPhones and iPads. Intel is thus developing its own CDMA (code-division multiple access) chips, and there's a possibility that these chips might find their way into the next iPhone.
Next, we'll discuss Intel's data center business.