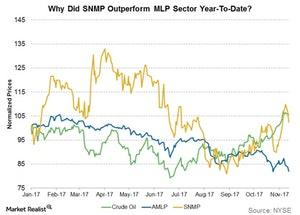 What's Driving Sanchez Midstream Partners in 2017
SNMP's rise
Sanchez Midstream Partners (SNMP) has risen just ~4% year-to-date. However, it still made the list of top ten MLP gainers, as the sector has fallen ~15%. Sanchez Midstream Partners owns oil and natural gas gathering systems, natural gas pipelines, and a natural gas processing facility—all located in the Western Eagle Ford in South Texas. The company operates two segments—Midstream and Production.
Article continues below advertisement
SNMP's yield
The above graph compares Sanchez Midstream Partners' stock performance in 2017 with the Alerian MLP ETF's (AMLP). Sanchez Midstream Partners declared a 3Q17 distribution of $0.45 per unit, which represents its eighth consecutive 1.5% increase since 3Q15. SNMP is currently trading at a high yield of ~15%, one of the highest among midstream MLPs. NGL Energy Partners (NGL), USD Partners (USDP), and American Midstream Partners (AMID) are some other MLPs trading at yields well above 10%. Sanchez Midstream Partners' growing distributions over the last two years may have contributed to the stock's outperformance during 2017.
Upcoming projects
Sanchez Midstream Partners' SECO Pipeline was completed in August 2017. Its Raptor Gas Processing Facility expansion project was completed after the end of 3Q17. With these two projects now complete, SNMP does not expect major capital expenditure in the rest of 2017. It expects to generate free cash flow in 4Q17.
In the company's 3Q17 earnings release, Gerry Willinger, CEO of Sanchez Midstream Partners' general partner, stated that "these midstream assets, along with the Carnero gathering line and the Western Catarina Midstream system, provide a stable stream of fee-based cash flows to the partnership, form the basis of our midstream growth strategy in South Texas and complete our transformation to a midstream-focused master limited partnership."
Sanchez Midstream Partners closed the sale of its Oklahoma production assets in July 2017 for ~$5.5 million. It closed the sale of non-core, non-operated production assets in Texas for ~$6.3 million on November 13, 2017.