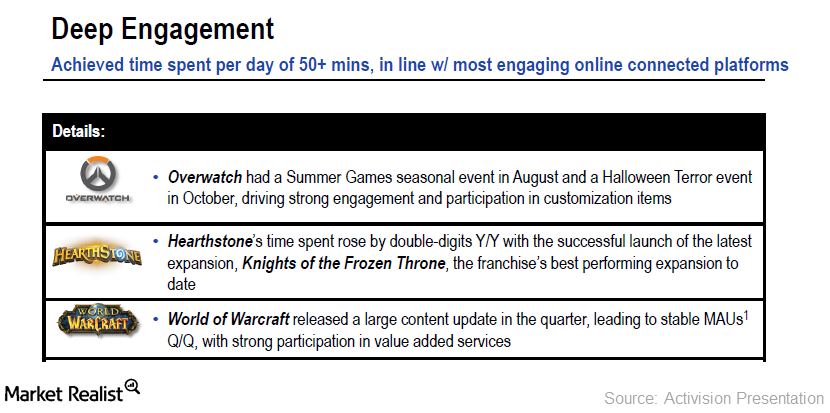 What's Driving Activision's User Engagement?
Time spent per user
Activision Blizzard's (ATVI) players spent over 50 minutes per day on average in 3Q17. According to Activision, this is similar to other engaging online connected platforms globally. The user engagement in 3Q17 was driven by games such as Destiny 2 and Hearthstone. Activision's Call of Duty World League is highly anticipated by players and scheduled to start in December 2017 with a prize pool of $1 million.
In August 2017, Overwatch had a Summer Games seasonal event, and later in October, it held a Halloween Terror event that attracted several players. In 3Q17, World of Warcraft released a content update and maintained its monthly active users or MAUs.
King Digital
Activision Blizzard's press release states, "King's increased cadence of live operations and new features continued to drive strong engagement. The frequency with which players returned to play and the time spent per player are at record highs."
BlizzCon
Earlier this month, Blizzard held its annual video game convention, BlizzCon, and hosted more than 30,000 people. Tickets sold out and millions can view the event through a BlizzCon Virtual Ticket.
BlizzCon featured events such as the finals of eSports tournaments and announced details of the Overwatch League which we will look at in the next part.
Article continues below advertisement