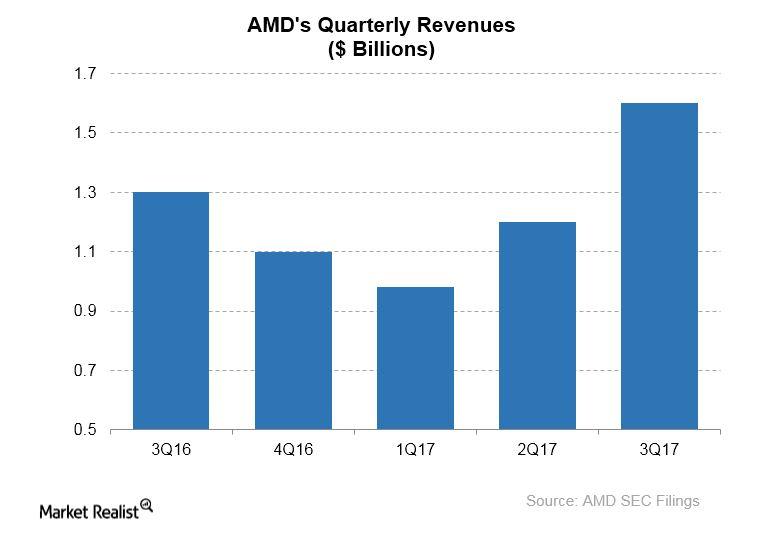 Behind AMD's Top-Line Growth
AMD among chipmakers showing fastest top-line growth
Advanced Micro Devices' (AMD) revenues have consistently risen at a double-digit percentage rate YoY (year-over-year) for the past four quarters. In 3Q17, revenues grew 26% YoY to $1.6 billion, and revenues grew 19%, 18%, and 15% in 2Q17, 1Q17, and 4Q16, respectively.
Chip rivals Intel (INTC) and Micron Technology (MU) reported revenue growths of 6.0% and 91% YoY, respectively, in their quarters corresponding to AMD's 3Q17, while Qualcomm's (QCOM) revenues fell 5.0% YoY.
Qualcomm is embroiled in a bitter patent dispute with Apple (AAPL), and this is affecting its financial performance. Qualcomm's technology licensing division recorded a 36% YoY revenue fall in fiscal 4Q17 (September quarter).
Article continues below advertisement
New products underpinned AMD's top-line growth
In 3Q17, AMD's top-line growth was driven by strong demand for the company's new products including Radeon graphics and Ryzen desktop processors. As a result, the company's Computing and Graphics segment posted a 74% YoY rise in revenues in 3Q17, with the gain partly supported by higher average selling prices compared with 3Q16.
AMD's Enterprise, Embedded, and Semi-Custom segment report flat revenue growth. Through this segment, AMD supplies semi-custom chips that sit inside Microsoft's (MSFT) and Sony's (SNE) latest gaming consoles.
AMD's strong top-line growth in 3Q17 helped it post adjusted EPS (earnings per share) of $0.10, up from $0.03 in 3Q16 and above the consensus estimate of $0.08.