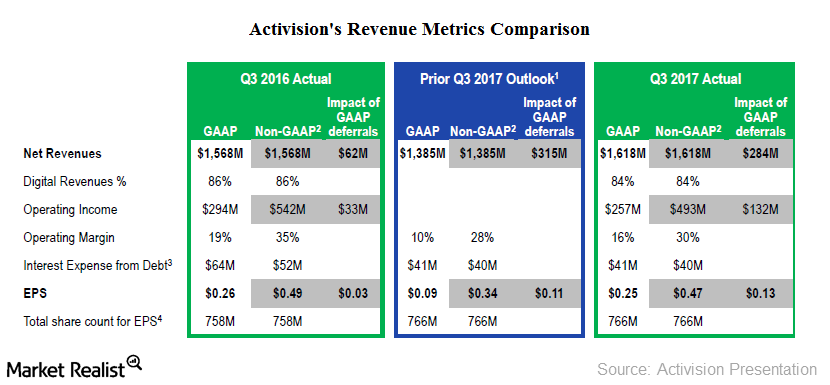 What's Affected Activision Blizzard's Stock Price in 2017?
By Adam Rogers

Nov. 21 2017, Published 3:51 p.m. ET
Activision Blizzard's stock has risen over 75% this year
Since the start of calendar 2017, Activision Blizzard's (ATVI) stock price has risen over 75% to close at $63.93 on November 20. The stock is now trading 82% above its 52-week low of $35.12 and 4.6% below its 52-week high of $67.03. Activision Blizzard has seen YoY (year-over-year) revenue growth in every quarter of 2017.
While the firm's GAAP (generally accepted accounting principles) revenue rose 18.6% YoY in 1Q17 to $1.72 billion, it rose 3.9% YoY to $1.6 billion. In 3Q17, Activision Blizzard reported revenue growth of 3.2% YoY to $1.62 billion. Activision reported non-GAAP EPS (earnings per share) of $0.47 in 3Q17.
EPS reported above analyst estimates in 3Q17
Analysts expected Activision to post revenue of $1.7 billion with EPS of $0.40 in 3Q17. While Activision's reported revenue came in below analyst estimates, the company comfortably beat EPS estimates in the quarter ended September 2017.
Activision beat analyst estimates by 22.4% in 3Q17, 43.3% in 2Q17, 47.6% in 1Q17, and 26% in 4Q16. Activision reported operating income of $493 million in 3Q17, compared to $542 million in 3Q16—indicating that the operating margin has fallen from 35% to 30% in this period.
ATVI has a market cap of $48 billion. Peer companies Electronic Arts (EA), Take-two Interactive (TTWO), and Zynga (ZNGA) have market caps of $33 billion, $13.4 billion, and $3.5 billion, respectively.
Article continues below advertisement