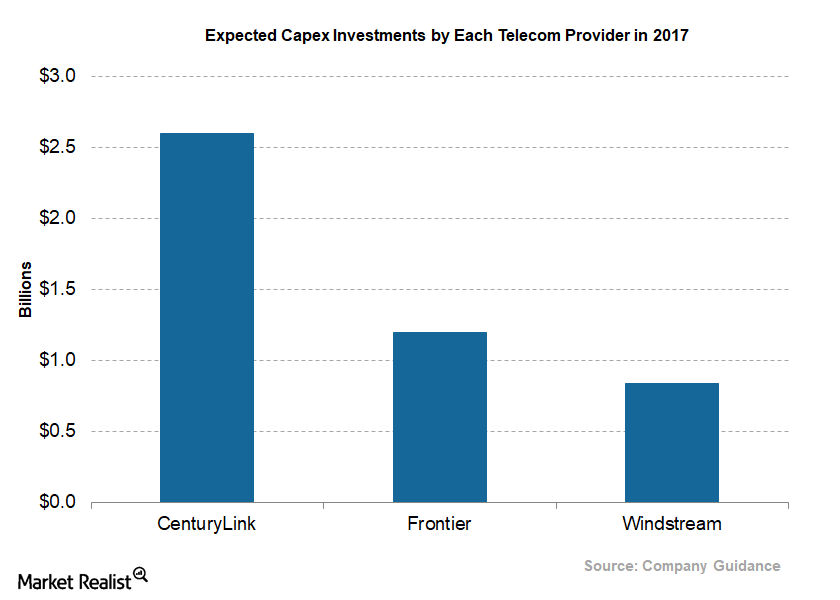 What Is CenturyLink's Capex Estimate for 3Q17?
CenturyLink's capex
Let's analyze CenturyLink's (CTL) spending on capital expenditures (or capex). In order to boost the network, the telecom company invests in capex. Wall Street analysts expect CenturyLink to spend ~$0.6 billion on capex in 3Q17.
In 2Q17, CenturyLink spent $0.83 billion on capex, up from $0.65 billion in 2Q16. The major reason for this growth in capex was driven by investments in its network to enhance speeds. CenturyLink also improved its fiber-optic connectivity to compete with Comcast (CMCSA), Frontier Communications (FTR), and other cable firms in the market.
CenturyLink's management cited ongoing strength in Ethernet, SD-WAN (software-defined WAN), and MPLS (multiprotocol label switching) products.
Article continues below advertisement
Expected capex investments in 2017
In 2017, CenturyLink's management expects to spend ~$2.6 billion on capex. Frontier Communications and Windstream (WIN) are expected to spend ~$1.2 billion and ~$0.84 billion, respectively, on capex in fiscal 2017.
Integrated US telecom carriers Verizon (VZ) and AT&T (T) expect to spend ~$17.5 billion and ~$22 billion, respectively, on capex in 2017.