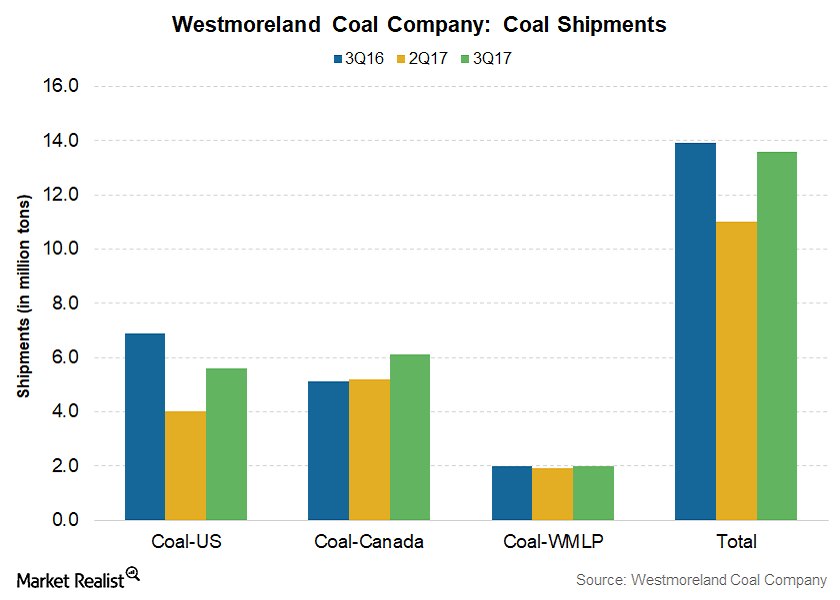 Why Westmoreland Coal's Shipments Fell in 3Q17
Shipments by segment
Shipments from Westmoreland Coal's (WLB) Coal-U.S. segment, which is a major revenue driver for the company, declined in 3Q17. Shipments came in at 5.6 million tons, a drastic fall from 6.9 million tons in 3Q16 but a significant rise from 4.0 million tons in 2Q17. Its an 18% decline on a YoY (year-over-year) basis.
Shipments from the company's Coal-Canada mining operations in 3Q7 increased 19.6% to 6.1 million tons, from 5.1 million tons in 3Q16. Shipments for its Coal-WMLP (Westmoreland Resource Partners) segment remained constant at 2.0 million tons for the third quarter on a YOY basis. However, on a QoQ (quarter-over-quarter) basis, shipments from this segment rose 5%, from 1.9 million tons in 2Q17 to 2.0 million tons in 3Q17.
Article continues below advertisement
Westmoreland Coal's overall shipments
For 3Q17, Westmoreland Coal posted 13.6 million tons in total coal (KOL) shipments compared to 13.9 million tons in 3Q16 and 11.0 million tons in 2Q17. That's a 2.2% fall on a YoY basis.
Why the fall?
The YoY decline in coal shipments was mainly due to the sharp fall in shipments from the company's Coal-U.S. segment, primarily due to mild weather and the termination of the Jewett mine contract. However, the fall was offset by higher shipments from the company's Coal-Canada operations and higher sales volume from the Kemmerer mine of the Coal-WMLP segment.
Mild weather conditions could impact coal sales volumes of other coal (KOL) companies, including Alliance Resource Partners (ARLP), Natural Resource Partners (NRP), and Peabody Energy (BTU).
In the next part, let's look at revenues for Westmoreland's operating segments in 3Q17.