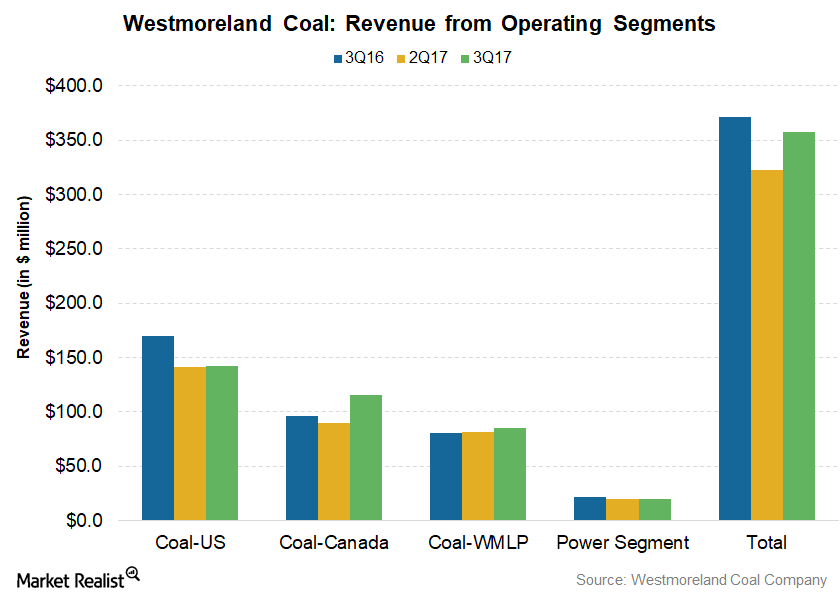 Why Westmoreland Coal's Revenue Fell in 3Q17
Segment revenues
Most of Westmoreland Coal's (WLB) revenues are derived from three coal mining segments—Coal-U.S., Coal-Canada, and Coal-WMLP (Westmoreland Resource Partners).
The Coal-U.S. segment posted revenue of $142.0 million compared to $170.2 million in 3Q16 and $141.0 million in 2Q17. Revenue from Coal-Canada rose on a YoY (year-over-year) basis as well as a QoQ (quarter-over-quarter) basis in 3Q17. The segment's revenue came in at $115.7 million in 3Q17 compared to $96.3 million in 3Q16 and $89.4 million in 2Q17. The company's Coal-WMLP segment saw a marginal decline in revenue, from $90.3 million in 3Q16 to $85.6 million in 3Q17.
Revenue from the company's Power segment fell marginally $20.1 million, from $21.6 million in 3Q16. It rose marginally from $19.9 million in 2Q17 on a QoQ basis.
Article continues below advertisement
Westmoreland Coal's overall revenue
For 3Q17, Westmoreland Coal reported consolidated revenue of $358 million compared to $371 million in 3Q16. That's 11% higher than $323 million in 2Q17.
Why the fall in revenue?
The decline in overall shipments, the impact from certain customer contract amendments, and weak demand and pricing in Ohio resulted in the overall fall in revenue for 3Q17.
The average revenue realized per ton of coal sold came in at $26.30 in 3Q17 compared to $25.60 in the same period for 2016.
Weak natural gas prices, subsidized renewable energy generation, and mild weather conditions continue to impact the revenues of pure-play coal (KOL) producers, including Peabody Energy (BTU), Arch Coal (ARCH), and Alpha Natural Resources (ANRZQ).
Next, let's look at Westmoreland Coal's operating performance in 3Q17.