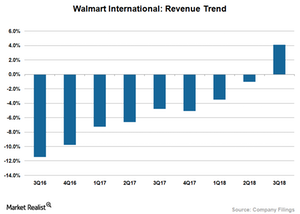 How Walmart's International Sales Returned to Growth
Growth across markets
Walmart's (WMT) International segment returned to growth due to improvement in comps (comparables) in ten of the 11 markets. Favorable currency rates further supported its top-line growth. Management noted that favorable currency rates benefited the segment's sales by $450 million. Investment in price, strength across private brands, online grocery service, and expanded offerings drove the segment's sales in fiscal 3Q18.
Article continues below advertisement
Sales by region
The company's Walmex region (Mexico and Central America) continued to report higher sales. The region's sales rose 6.6% during the quarter, reflecting 7% growth in comps. In Mexico, comps rose 7.2%, reflecting strength across all merchandise categories. Sam's Club and supercenter format stores continued to grow at a healthy rate. The company's net sales rose 11.2% in Central America, driven by positive comps across all countries.
Walmart's net sales rose 1.9% in Canada, driven by a 1% increase in comps. Investments in price and the expansion of its online grocery pickup service to new locations supplemented the region's top-line growth and resulted in market share gains.
In the United Kingdom, its top line improved 3.6%, driven by 1.1% growth in comps. Value pricing, enhanced in-store experience, growth in private brands, and online grocery service drove the region's top-line growth.
Sales in China (FXI) rose 4%, driven by a 2.5% rise in comps. The company's ticket size improved 3.3% in the region, driven by strength in the fresh and consumables category. The company expanded the grocery delivery service through JD Daojia to 140 stores, which supported sales growth.