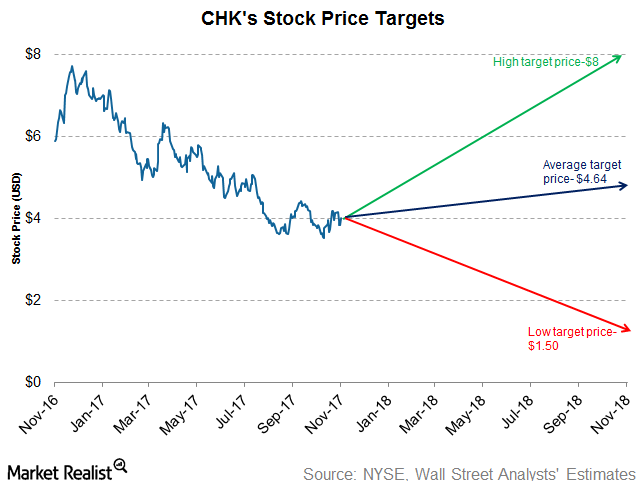 Wall Street Recommendations for Chesapeake Energy
Analysts' ratings for CHK
Approximately 65.5% of Wall Street analysts have rated Chesapeake Energy (CHK) stock a "hold" while ~10.3% rated it a "buy."
The average target price of $4.64 for the stock implies a potential return of ~15.4% in the next 12 months.
The highest and lowest target prices for CHK are $8.00 and ~$1.50, respectively.
Article continues below advertisement
Changes in analysts' ratings this year
In October, Jefferies had downgraded Chesapeake Energy stock to "underperform" from "hold." In September, Imperial Capital initiated coverage on CHK stock with an "in-line" rating.
In June, Macquarie lowered ratings for Chesapeake Energy to an "underperform" rating.
Earlier in May, Bank of America Merrill Lynch (BAC) also lowered Chesapeake Energy stock to an "underperform" rating.
Initially during the year, in February, UBS upgraded Chesapeake Energy to "neutral" from "sell."