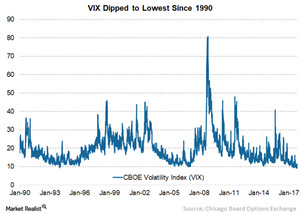 Why Volatility Is a Big Worry for Markets
VanEck
BUTCHER: Volatility has been at historically low levels. Interest rates go up, how do you see volatility changing in 2018?
Article continues below advertisement
Volatility is a Worry
VAN ECK: This is one of the worries I have about the market. I cannot say I have all the answers! But let us just talk about the dimensions of the problem. As you said, volatility is really low. The fact I like to focus on is that there is a lot of money trading volatility. People used to not trade volatility. Estimates, for example from Artemis Capital, the hedge fund, are that there is up to $2 trillion being traded – basically trading triggered by volatility.
Let me explain this a little. If you are short volatility, or you are writing put options, it is just another way of getting yield. Since interest rates are so low globally, people have been searching for yield in all these different kinds of spots. The question is if volatility suddenly spikes, what will happen to that $2 trillion? It is a great deal of money. Will it go from being a calming effect on the markets (this is the theory), to being an accelerant of more volatility as market participants start taking money out of those trades? We do not know and cannot predict it for 2018. But it is certainly money that is working in the markets that could backfire or have effects. It is worth paying attention to.
Article continues below advertisement
Market Realist
Stock market volatility fell to lowest level in almost 50 years
Since last year's presidential election, the US stock markets (IVV) (VTI) have seen volatility fall to almost a 50-year low. The average daily change in the S&P 500 Index (SPX-INDEX) (SPY) has been around 0.30% despite the index making record highs at regular intervals. According to Financial Times analysis, 1963 was the only year that saw lower volatility in US stock history at 0.25%. Since then, volatility hasn't been so low with the exception of the last 12 months. The CBOE's implied volatility index (or VIX), which is derived from 30-day S&P 500 options prices, hit its lowest level of 9.14 on November 3 compared to 22.08 a year ago.
Low volatility strategies
Over the last year, low volatility (VXX) (VIXY) strategies have performed exceedingly well and given investors higher returns. With bond yields hovering near historic lows, low volatility strategies have attracted a large number of investors who play the theme through ETFs that trade VIX futures to profit from falling volatility. Volatility-targeting strategies adopted by investors make money when VIX futures trade higher than the VIX.
Rising risk
However, some market participants fear that a rising number of investors following low volatility strategies could lead to huge unwinding risks if the volatility rises sharply. The International Monetary Fund warned that the rising number of financial products following equity volatility is creating unknown risks to the financial markets that could result in a severe shock.