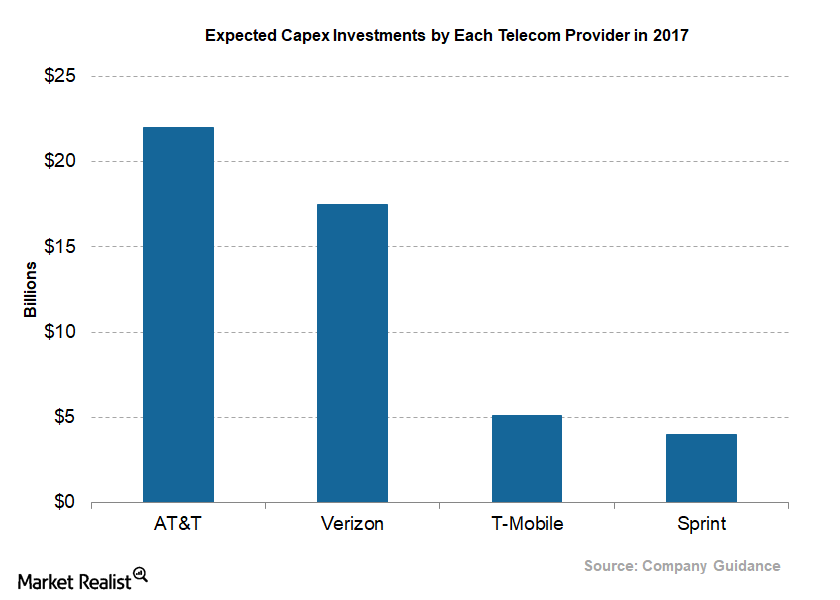 Verizon's 2017 Capital Expenditure Budget: Must-Knows
Verizon is spending big on capex
Let's take a look at Verizon's (VZ) capex (capital expenditure). The company has been investing big in capex to improve its network and procure additional spectrum for future use. It has spent $11.3 billion in capex in the first nine months of 2017, which compares to $11.4 billion in the first nine months of 2016. In 3Q17, much of its capital spending was network-related to maintain leadership in its markets. The company says it will continue to devote much of its capex to its wireline segment for Fios installations and the wireless segment for 4G (fourth-generation) LTE (Long-Term Evolution) densification.
According to a report from FierceWireless on October 12, 2017, "While U.S. carriers have generally reined in their capex investments in advance of 5G deployments, analysts expect spending to ramp up in the coming months."
Article continues below advertisement
Expected capex investments in 2017
Verizon's management forecasts capex for 2017 at the lower end of the previously guided range of $16.8 billion–$17.5 billion. By comparison, AT&T (T) expects to spend ~$22 billion on capex, and T-Mobile (TMUS) expects cash capex to be $4.8 billion–$5.1 billion, excluding capitalized interest. In fiscal 2017 (year ended March 2018), Sprint (S) continues to expect its cash capex to be $3.5 billion–$4.0 billion, which excludes devices leased through indirect channels.