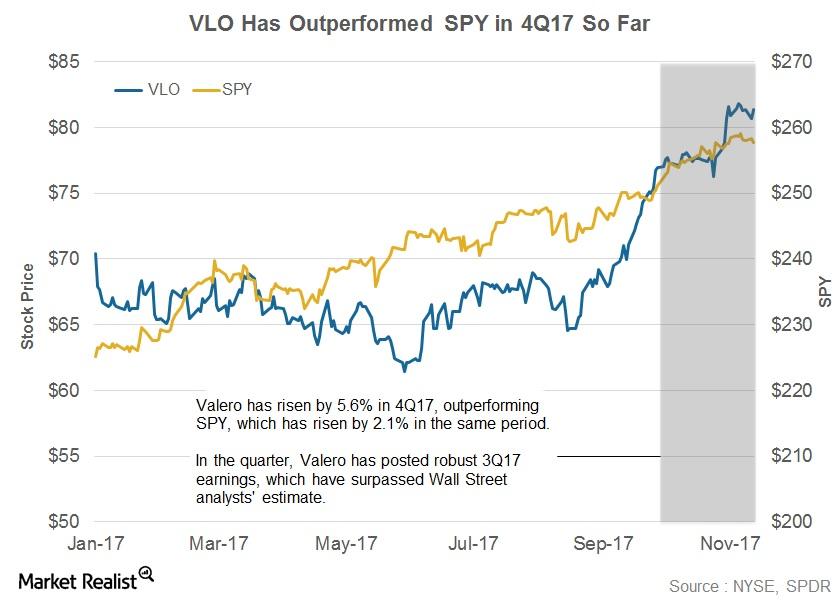 Valero's Stock Performance in 4Q17: Has It Outperformed SPY?
Valero's stock performance
Since October 2, 2017, the start of 4Q17, Valero Energy (VLO) stock has risen 5.6%, outperforming the SPDR S&P 500 ETF (SPY), the overall market indicator. The ETF has risen 2.1% in the same period. VLO peer Delek US Holdings (DK) has risen 4.5% since October 2, and HollyFrontier (HFC) and PBF Energy (PBF) have risen sharply, by 18.7% and 19.0%, respectively.
Article continues below advertisement
Valero stock rises in 4Q17
In its 3Q17 earnings release, the company posted a strong set of numbers, exceeding Wall Street analysts' consensus estimates and boosting its stock price. For more on Valero's 3Q17 earnings, read Valero Beats 3Q17 Estimates—But RIN Costs Are Rising.
Also, the EIA (U.S. Energy Information Administration) has reported a fall in gasoline and distillate inventories in 4Q17. Gasoline and distillate inventories fell 4.3% and 7.3%, respectively, between the weeks ended September 29, 2017, and November 3, 2017.
VLO posts refining crack indicators periodically. Its refining crack indicators narrowed between 3Q17 and 4Q17, possibly because 3Q17 was an exceptionally strong quarter for refiners' margins, mainly due to the influence of Hurricane Harvey. The narrower indicators could mean weaker refining margins for VLO in 4Q17. Plus, as we've discussed, RIN (renewable identification number) costs are expected to continue to dent earnings in 4Q17.
In summary
Overall, Valero's 4Q17 rise has likely been due to its better-than-expected 3Q17 earnings and lower gasoline and distillate inventories. This gain has been partly offset by continual RIN expenses.