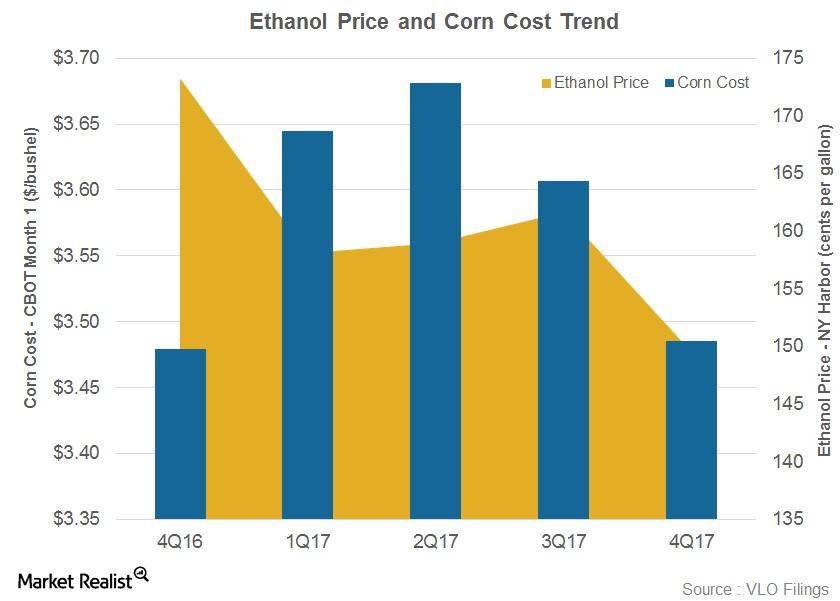 Could Valero's Ethanol Earnings Fall in 4Q17?
Valero's ethanol earnings outlook
In this part, we'll look at Valero Energy's (VLO) ethanol earnings and outlook. Valero's adjusted operating income from the ethanol segment fell from $106 million in 3Q16 to $82 million in 3Q17, due to the segment's margin narrowing. This fall was partly offset by a rise in VLO's ethanol output.
The ethanol segment's gross margin shrank from $0.66 per gallon in 3Q16 to $0.57 per gallon in 3Q17, mainly due to high corn costs. However, Valero's ethanol production rose from 3,815 thousand gallons per day in 3Q16 to 4,032 thousand gallons per day in 3Q17.
Article continues below advertisement
In 4Q17, Valero's ethanol segment margin is likely to narrow QoQ (quarter-over-quarter). In 4Q17, ethanol prices have fallen 8% QoQ, and corn costs have fallen 3% QoQ. Year-over-year, the ethanol segment's margin could narrow, as corn costs have not fallen but ethanol prices have. In 4Q17, ethanol prices have fallen 14% year-over-year, while corn costs have remained steady.
Peer comparison
Like Valero, peers Andeavor (AND), Marathon Petroleum (MPC), and Phillips 66 (PSX) have earnings generated by segments other than their core refining segments. ANDV and MPC have vast midstream and marketing assets contributing to their overall earnings, and PSX has midstream, chemical, and marketing assets. Continue to the next part to learn about Valero's financial position.