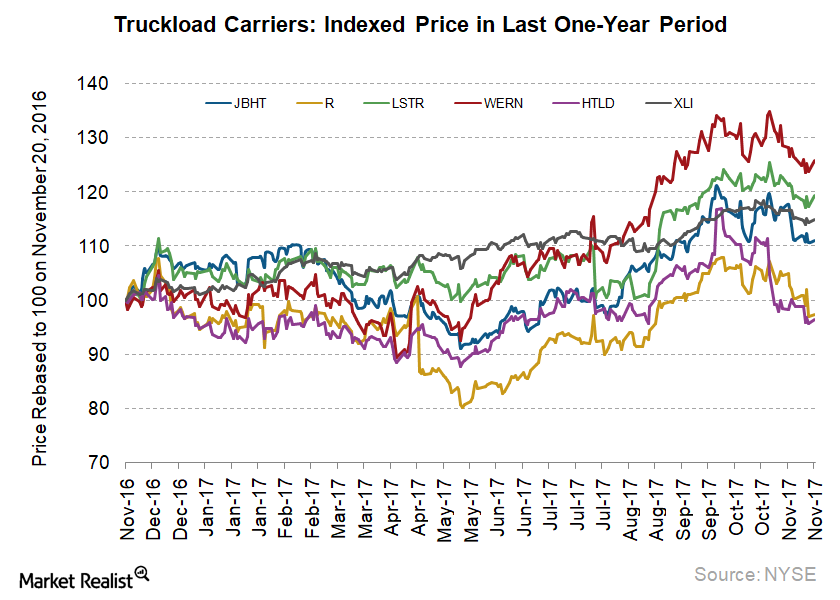 US Truckload Carriers: Accelerating into 2018
By Samuel Prince

Nov. 24 2017, Published 2:15 p.m. ET
Trucking in the United States
Trucks currently haul ~70% of all merchandise shipped in the United States. Volumes are expected to reach ~10.7 billion tons in 2017 with $719 billion in revenues. The ATA (American Trucking Associations) anticipates the US trucking industry to expand 3.4% per year until 2023.
A lot of disruption could shake up the trucking sector (XTN) in the near future, most notably electric trucks. On November 16, 2017, Tesla Motors (TSLA) introduced its electric semi truck.
Article continues below advertisement
Trucking industry in 2018
In the second quarter of 2017, the US GDP growth rate was the highest for the last two years. However, the hurricanes in the third quarter had a lot of ramifications for the trucking industry. The ATA believes accelerated GDP growth in the first half of 2018 should provide an impetus to the hurricane-hit US transportation sector. Better truck rate volumes for that period could be partially offset by a tight driver market that could lift the spirits of US truckload carriers going forward.
On the other hand, the trucking industry has been coping with several federal mandates. The major mandate is the Electronic Logging Device (or ELD). The December 18, 2017, deadline for the implementation of the ELD is approaching quickly. It's expected to force truckers to comply with an hours-of-service rule, which limits commercial truck driving to not more than 11 hours per day. There has been a lot of resentment among small independent truck operators over the issue, and they may strike to delay the implementation of the ELD mandate.
In this series, we'll look at 3Q17 revenues, income statements, cash flows, and leverages of the major US truckload carriers mentioned above. We'll also turn to Wall Street for its views on these companies.
Let's start with their 3Q17 revenues.