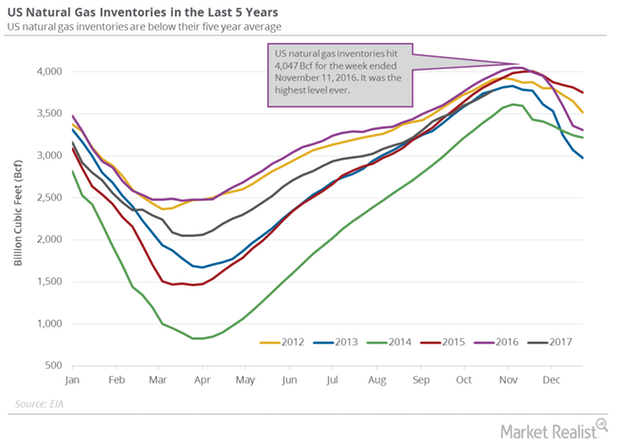 US Natural Gas Consumption Could Surpass Production
Weekly US natural gas consumption 
US natural gas consumption rose by 8.1 Bcf (billion cubic feet) per day to 64.5 Bcf per day on October 26–November 1, 2017. Consumption rose 14.4% month-over-month and by 4.4 Bcf per day or 7.3% YoY (year-over-year). The rise in consumption could have a positive impact on natural gas (UNG) (UGAZ) (DGAZ) prices.
Article continues below advertisement
EIA's US natural gas consumption
US natural gas consumption fell by 0.9 Bcf per day to 69.35 Bcf per day in August 2017—compared to July 2017. Consumption fell 1.4% month-over-month and by 4.4 Bcf per day or 6.02% YoY.
EIA's estimates 
The EIA will release its "Short-Term Energy Outlook" report on November 7, 2017. In last month's report, it estimated that US natural gas consumption would average 73.1 Bcf per day and 76.8 Bcf per day in 2017 and 2018, respectively. Consumption averaged 74.6 Bcf per day in 2015 and 75.1 Bcf per day in 2016.