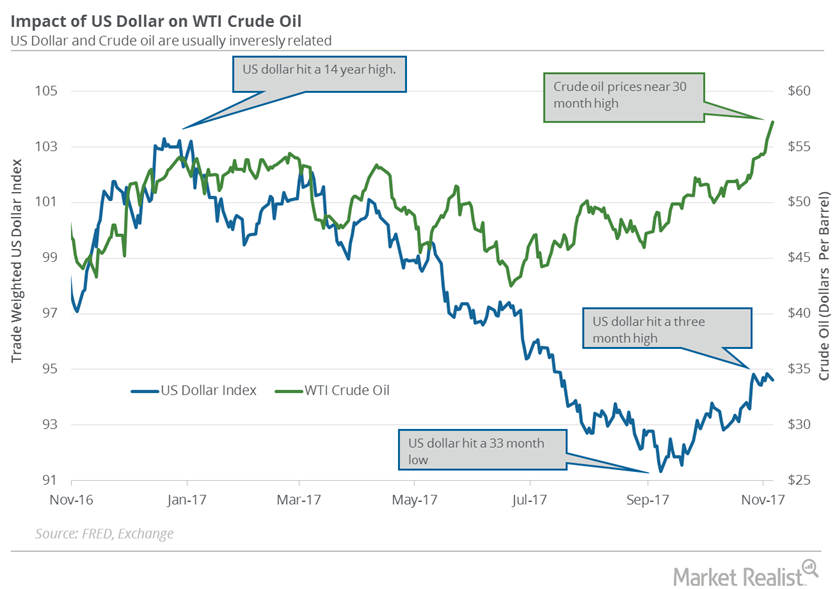 US Dollar Helped the Crude Oil Bull Market
US Dollar Index 
The US Dollar Index fell 0.25% to 94.62 on November 6, 2017. It benefited US crude oil (USL) (DBO) prices on the same day. US crude oil prices are near a three-year high. High oil prices benefit energy producers (IEO) (XES) like Chesapeake Energy (CHK), Occidental Petroleum (OXY), SM Energy (SM), and Cobalt International Energy (CIE).
The US dollar (UUP) fell due to the fall in US Treasury bills. The Treasury bills fell due to uncertainty about US tax bills and inflation.
Article continues below advertisement
US dollar 
The US dollar (USDU) tested a low of 90.99 on September 8, 2017—the lowest level in 33 months. However, the US dollar has risen 4% since the lows on September 8, 2018, due to strong US jobs data and the improving US economy. The US dollar is also backed by strong US services and factory data. The US stock markets (SPY) (QQQ) are at record levels, which also helped the US dollar.
US dollar and crude oil  
Crude oil (OIL) (USO) and US dollar prices are usually inversely related. The Fed could increase the interest rates in December 2017 and 2018, which would strengthen the US dollar. The expectation of the strong US dollar could limit the upside for crude oil prices.
US tax cuts could drive the US dollar in the coming weeks. However, optimistic signals are expected before November 23, 2017, from the Republicans. Otherwise, the US dollar might fall.
In the next part, we'll discuss how Cushing oil inventories impact oil prices.