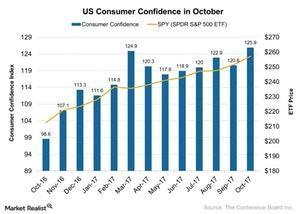 US Consumer Confidence Improved: Could It Strengthen the Market Rally?
US consumer confidence in October
According to a report provided by the US Conference Board, the US Consumer Confidence Index improved solidly in October 2017. The index stood at 125.9 in October 2017 compared to 120.6 in September, and it beat the market's expectation of 109.1.
The consumer confidence index is one of the most important indicators for the US economy (QQQ) (IWM) and the market (SPY). Improving consumer confidence generally indicates that consumers were optimistic about the country's short-term economic outlook. Improving consumer activity is a positive sign for the economy.
In September 2017, the index fell marginally compared to August 2017. The rising geopolitical risk between the US (VOO) and North Korea mostly hampered the performance of the consumer confidence in that month.
Article continues below advertisement
Impact on the market
The S&P 500 Index (SPY) rose strongly in October 2017, increasing nearly 2.2% in October 2017. The index has been making new highs day by day. The increasing hopes for the passage of tax reform bill in the Congress have been driving the index to a higher level.
The improvement in fundamental factors such as consumer confidence and business confidence have been strengthening the market rally.
In the final part of this series, we'll analyze the indicators that investors should watch this week.