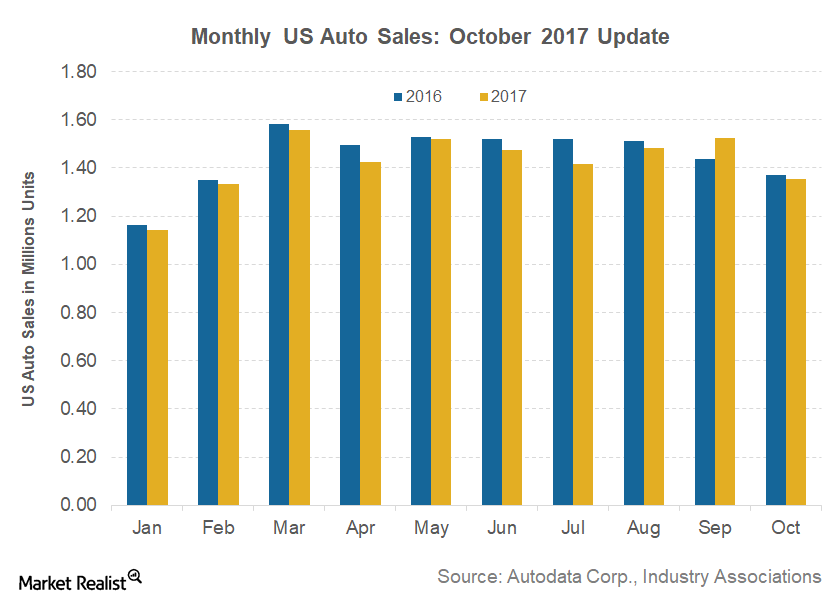 US Auto Sales Fall in October after September Gains
US auto sales in October 2017
According to data compiled by Autodata, October 2017 US auto sales (XLY) stood at 1.35 million vehicle units, about 1.3% lower than the ~1.37 million units sold in October 2016, and also lower than the 1.52 million vehicle units sold in September 2017.
Article continues below advertisement
Weakness in small car sales continues
In October 2017, US small car sales continued to disappoint and fell 9.2% YoY (year-over-year) to 0.48 million units. In contrast, truck and UV (utility vehicle) sales rose 3.6% YoY (year-over-year) to 0.88 million units.
In September, truck sales were strong and rose 12.4% YoY. In September, US auto sales were partly boosted by higher demand from hurricane-affected areas as people started looking for replacement options for their damaged vehicles. According to a Reuters report, up to 700,000 vehicles were damaged or destroyed by hurricanes Harvey and Irma together.
Note that the United States is the largest auto market in North America, and globally, it is the second-largest auto market after China. Legacy automakers Ford Motor (F), Toyota Motor (TM), Fiat Chrysler Automobiles (FCAU), and General Motors (GM) make most their revenue from the United States.
Series preview
In this series, we'll explore key auto companies' October 2017 US sales figures. We'll discuss what these sales figures could mean for these automakers' future growth, and learn what analysts are recommending for these stocks. In the next part, we'll begin by learning about Ford's October 2017 US sales data.