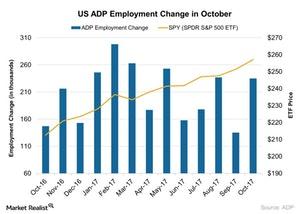 How the Rising US ADP Employment Data Could Impact the Economy
US ADP employment in October
The ADP National Employment Report for October 2017 was released on Wednesday, November 1, 2017. The report showed strong improvements in private sector employment, which reached 235,000 in October and beat the market expectation of 202,000. In September 2017, private sector employment stood at 135,000.
Article continues below advertisement
Key highlights from the October report
The professional and business sectors added 109,000 jobs in October, while the financial (XLF) sector added 9,000 jobs, and the education and health sectors added 39,000 jobs. The leisure and hospitality sector added 45,000 jobs, and other services added 24,000 jobs that month. However, the trade, transportation, and utilities (XLU) sectors showed job losses of 50,000.
Of the 235,000 job additions in the private sector in October, 79,000 jobs were seen in the small business category, while 66,000 jobs came from the medium business category, and about 90,000 jobs came from the large business category.
Impact on the economy
The private sector has been adding more value to the US labor market (QQQ) (SPY). According to a recent article in the Regional Economist, US startup firms are playing a crucial role in the job market, adding more and more jobs to the US labor market.
In the next part, we'll analyze US GDP (gross domestic product) growth in 3Q17.