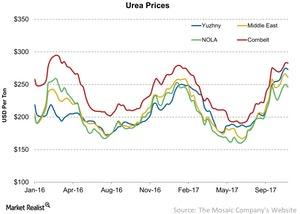 How Urea Prices Moved Last Week
Urea fell
In the week ending November 3, the overall weekly urea prices were broadly flat to negative week-over-week.
Article continues below advertisement
Weekly movements
Last week, the prilled urea prices at the Yuzhny location fell by about 73 basis points week-over-week to $273 per metric ton from $275 per metric ton. However, the prices at this location were higher by 39% compared to the levels in the corresponding quarter a year ago in 2016.
Similar to prilled urea, the price momentum for granular urea also moved into negative territory. NOLA (New Orleans) prices fell by about 1.6% week-over-week to $223 per metric ton from $227 per metric ton a week ago. In the Cornbelt region of the US, the prices were broadly flat week-over-week at $283 per metric ton. NOLA granular urea prices were 21% higher year-over-year and Cornbelt prices were also about 21% higher year-over-year.
Outside of North America (MOO), the granular urea prices in the Middle East fell by as much as 1.9% week-over-week to $261 per metric ton. Compared to levels in the corresponding week a year ago, granular urea prices in the Middle East were 25% higher.
Price performance
The year-over-year growth in urea prices was primarily driven by lower capacity in China. However, this was not the case for other nitrogen products such as ammonia, UAN (urea ammonium nitrate), and AN (ammonium nitrate), as we saw in CF Industries' (CF) earnings. The weakness in prices remained a concern for CVR Partners (UAN) and PotashCorp (POT) in 3Q17. Weak prices may have also affected Agrium (AGU), which will release its earnings this week.
Next, we'll discuss prices of natural gas, which is one of the key input materials for nitrogen fertilizers.