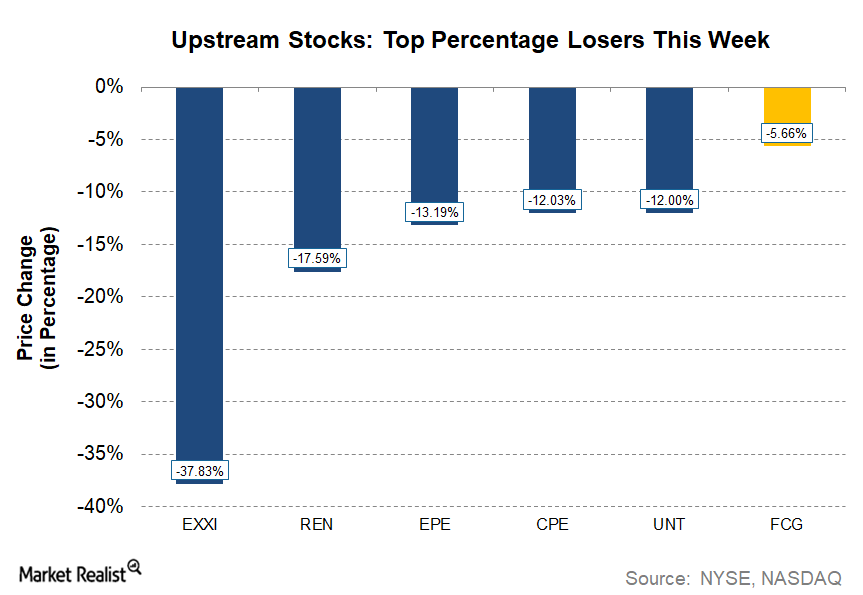 Your Upstream Losers This Week: EXXI, REN, EPE, CPE, and UNT
Upstream losers
Now that we've looked at the upstream percentage gainers this week (starting November 13, 2017), we'll now move on to the percentage losers from the oil and gas production sector in the US. To compile our list of top upstream gainers, we've used only oil and gas producers with market capitalizations of more than $100 million and an average trading volume higher than 100,000 shares last week.
Article continues below advertisement
Energy XXI Gulf Coast: the top loser
So far this week (as of Tuesday, November 14), Energy XXI Gulf Coast (EXXI) has fallen from last week's close of $8.83 to $5.49—a significant fall of ~38%. Most of this decline came on Tuesday, after the company announced its 3Q17 earnings and updated its outlook of the strategic alternative review process.
EXXI reported 45% higher EBITDA (earnings before interest, tax, depreciation, and amortization) of $35.3 million in 3Q17, compared with $24.4 million in 2Q17. The company also announced that no executable plan has emerged from its discussions with financial advisors. Now, EXXI might consider a stand-alone option wherein it would begin drilling in early 2018, using its own internal liquidity, though it might need to access capital markets. The stand-alone option did not go well with the market, and EXXI got hammered by more than 34% in a single session on Tuesday.
In the list of top decliners, Energy XXI Gulf Coast (EXXI) is followed by Resolute Energy (REN), EP Energy (EPE), Callon Petroleum (CPE), and Unit Corporation (UNT), which have fallen ~17.6%, ~13.2%, ~12.0% and 12.0%, respectively, so far this week.
On November 13, 2017, Resolute Energy (REN) announced the withdrawal of its previously announced offering of $550 million of senior notes. The reason behind the move, according to REN's press release, is as follows: "We approached the market as an opportunistic means to refinance our existing 8.5% senior notes due 2020. However, the company has concluded that current terms and conditions available in the market were not sufficiently attractive for Resolute to move forward with the transaction."
Overall, the First Trust Natural Gas ETF (FCG), which represents an index of stocks across the natural gas exploration and production industry, has fallen nearly 5.7% this week. By comparison, the SPDR S&P 500 ETF (SPY) has fallen 0.14% so far this week.