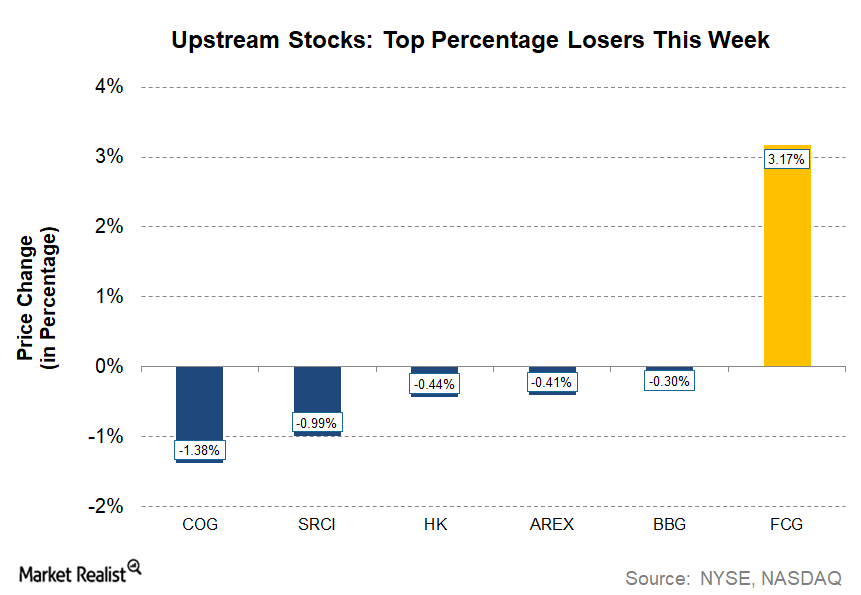 Upstream Losers this Week: COG, SRCI, HK, AREX, and BBG
By Nicholas Chapman

Nov. 8 2017, Updated 4:15 p.m. ET
Upstream losers
Having looked at the percentage gainers, we'll now move on to the percentage losers from the oil and gas production—or upstream—sector in the United States this week. To compile our list of the top upstream gainers, we used only oil and gas producers with market capitalizations greater than $100 million and average trading volume last week greater than 100,000 shares.
Article continues below advertisement
Cabot Oil & Gas: The lowest performer
This week, Cabot Oil & Gas (COG) fell from $26.18 to $27.84—a fall of ~1%. Interestingly, there's no news release from the company this week. The fall in COG came despite a very strong rise in natural gas prices this week. However, COG has been in a strong upward trend since October 27, after it announced its 3Q17 earnings. COG reported adjusted EPS of $0.07, meeting Wall Street analyst EPS estimates of $0.07. After its 3Q17 earnings, COG's stock received multiple target price increases from Wall Street analysts in the last two weeks, which added fuel to COG's stock rally. In the most recent target price upgrade on November 1, Raymond James raised COG's target price to $32.00 from $28.00. Since its 3Q17 earnings, Cabot Oil & Gas is up almost 13%.
On October 25, Cabot Oil & Gas announced a dividend of $0.05 per share on its common stock. This dividend is payable on November 17 to stockholders of record as of November 8.
In the list of top decliners, Cabot Oil & Gas (COG) led SRC Energy (SRCI), which fell from $9.11 to $9.02 or by 0.99%. On November 1, SRC Energy (SRCI) announced its 3Q17 earnings. In 3Q17, SRC Energy reported revenues of ~$104 million—higher than the Wall Street analyst consensus of ~$96 million. SRCI beat EPS estimates by $0.03 in 3Q17. SRCI reported adjusted profit of $0.22 per share, whereas Wall Street analyst consensus was for a profit of $0.19 per share. Since its 3Q17 earnings, SRC Energy is down ~8%.
Others top decliners from the oil and gas production industry include Halcon Resources (HK), Approach Resources (AREX), and Bill Barrett Corporation (BBG). These stocks are down 0.44%, 0.41%, and 0.30% so far this week. Overall, the First Trust Natural Gas ETF (FCG)—which represents an index of stocks across the natural gas exploration and production industry—is rising this week. It's up 3.17%. In comparison, the SPDR S&P 500 ETF (SPY) has risen 0.09% this week.