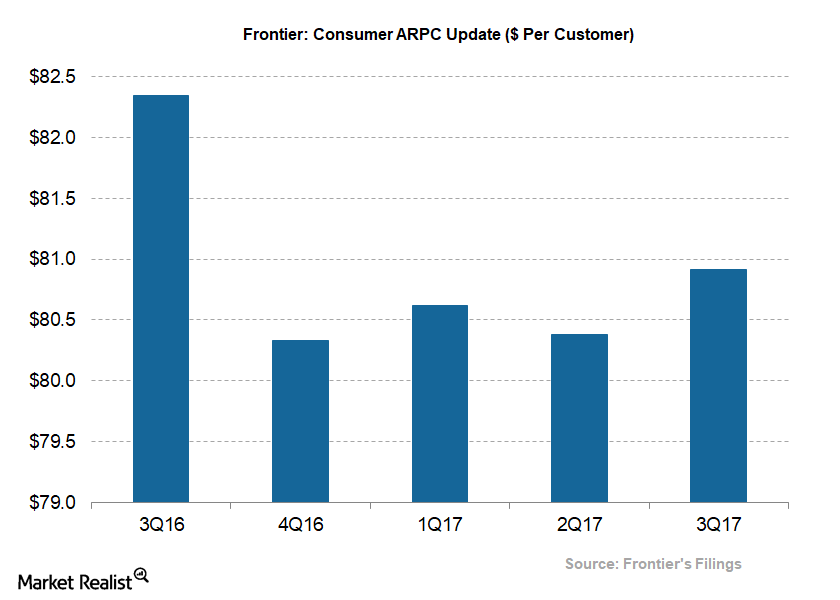 Understanding Trends in Frontier's Customer Retention Rate
Customer churn improved significantly
The telecom (telecommunications) sector is highly competitive. Charter (CHTR), AT&T (T), and Comcast (CMCSA) are keeping Frontier Communications (FTR) busy, and customer retention is an important metric. Frontier reported customer churn of 2.08% in 3Q17 compared to 2.24% churn in 2Q17 and 2.08% churn in 3Q16. Customer churn is a measure of subscriber loss, and the lower the churn, the better.
In Frontier's case, the 2.08% churn reported in 3Q17 showed an improvement over 2.24% in the prior quarter, with CTF (California, Texas, and Florida) FiOS being the primary driver of the overall improvement. However, churn for the latest quarter was flat YoY (year-over-year), which means that the telecom company is still struggling to retain its subscribers.
Article continues below advertisement
Spotlight on customer value
Not only is customer retention significant, the value of those customers is just as significant. It shows whether investments in customer acquisition are bearing fruit.
Frontier reported ARPC (average revenue per customer) of $63.99 in 3Q17 for its legacy operations. The company reported ARPC of $107.33 for its CTF operations, the businesses the company acquired from Verizon (VZ). Combined ARPC was $80.91 compared to $82.34 in 3Q16 and $80.38 in 2Q17, as shown in the above chart. Combined ARPC was still lower than in the corresponding period the previous year. The metric has been stabilizing over the past few quarters, mainly driven by lower customer disconnect credits. Additionally, 3Q17 had a one-time benefit of the Mayweather-McGregor boxing match, which accounted for $0.29 of combined ARPC.