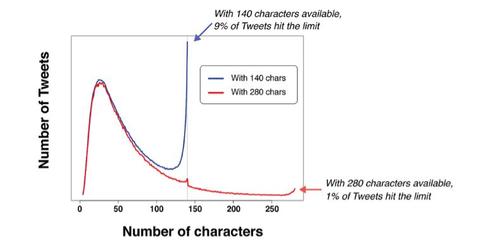 What Twitter Learned from Its 280-Character-Limit Trial
By Neha Gupta

Updated
Twitter doesn't want policy to stand in the way of growth
Even as Twitter (TWTR) moves to tighten policies in some areas to curb abuse of its services, the company is relaxing other policies that encourage the use of its services. The company has expanded its 140-character limit to a significantly expanded limit—280 characters per post.
Starting on November 7, Twitter began to broadly roll out the ability to publish posts of up to 280 characters in length. Since its 2006 launch, Twitter has restricted all posts to 140 characters.
Article continues below advertisement
Expanded post limit boosts platform activity
In September 2017, Twitter (TWTR) announced that it would test a new post limit, allowing users to share tweets longer than the traditional 140 characters. Observations from the expanded post character limit trial led Twitter to expand the trial to users in most languages.
According to Twitter, the initial trial showed that users could publish longer posts received more likes and mentions and gained more followers. Those users also spent more time on the platform, implying that an expanded character limit for posts could boost platform engagement.
Although critics worried that doubling the post character limit would make Twitter less readable, the trial returned a different observation. Twitter said that only 5.0% of tweets were longer than 140 characters in the trial sample.
As we can see in the chart above, Twitter also observed that only 1.0% of tweets hit the text limit after expansion to 280 characters, compared with 9.0% of tweets that hit the text limit under the 140-character restriction.
Boosting advertising business
While Facebook (FB), Alphabet's (GOOGL) Google, Snap (SNAP), and Yelp (YELP) grew their advertising sales in 3Q17, Twitter's advertising sales dropped during the quarter. With new implementations such as doubling the post character limit, Twitter could draw more users and advertisers to its platform.