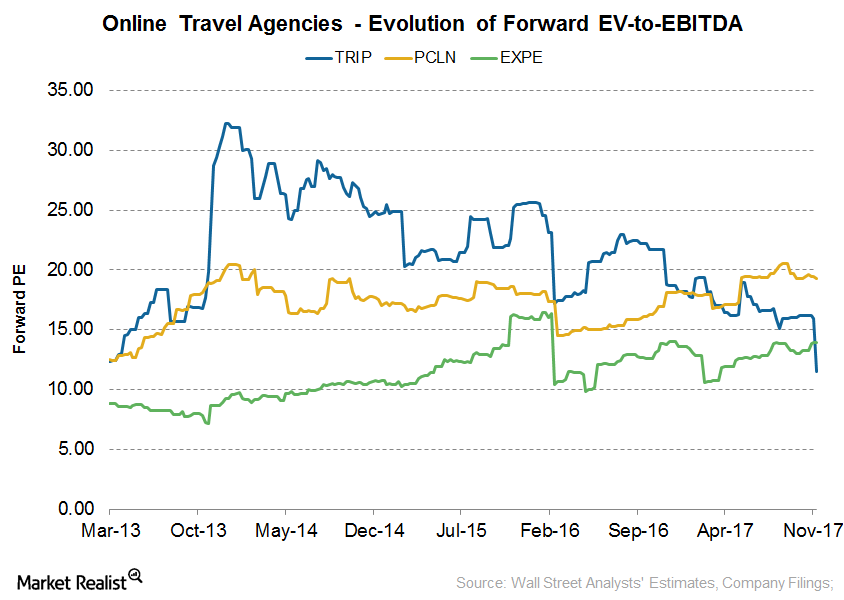 TripAdvisor Valuation: What Is Priced In?
Forward PE ratio
Currently, TripAdvisor's (TRIP) forward PE (price-to-earnings) ratio stands at 28.0x, which is lower than the 35.6x average valuation seen since its initial stock listing in 2011. The stock had an all-time high valuation of 52.7x in November 2013 and an all-time low of 17.9x in December 2012.
TripAdvisor enjoys a multiple higher than peers Expedia (EXPE) and Priceline (PCLN). Expedia (EXPE) had a PE ratio of 26.3x. Priceline (PCLN) had a forward PE multiple of 22.8x during the same period. Ctrip International (CTRP) had a PE ratio of 47.8x.
Earnings per share are highly volatile and have the potential to be manipulated. In such cases, the PE ratio becomes meaningless. Investors can use the forward EV-to-EBITDA[1. enterprise value to earnings before interest, taxes, depreciation, and amortization] multiple.
Article continues below advertisement
Forward EV-to-EBITDA ratio
Currently, TripAdvisor (TRIP) has a forward EV-to-EBITDA ratio of 11.5x, lower than its average of 20.1x. This multiple is lower than the ratios reported by Expedia and Priceline.
Expedia had a forward EV-to-EBITDA multiple of 13.9x, and Priceline's multiple was 19.3x during the same period.
What should investors watch?
Investors should monitor the profitability of TripAdvisor's (TRIP) Instant Booking platform. Sustainable revenue growth led by revenue per shopper growth could also be a key measure to track. Mobile monetization rates that define TRIP's Instant Booking monetization rates should also be tracked.
In the long term, travel industry growth driven by economic growth could be a key valuation driver for TripAdvisor. Investors can gain exposure to TripAdvisor by investing in the First Trust Dow Jones Internet Index ETF (FDN), which holds 1.6% in TRIP.