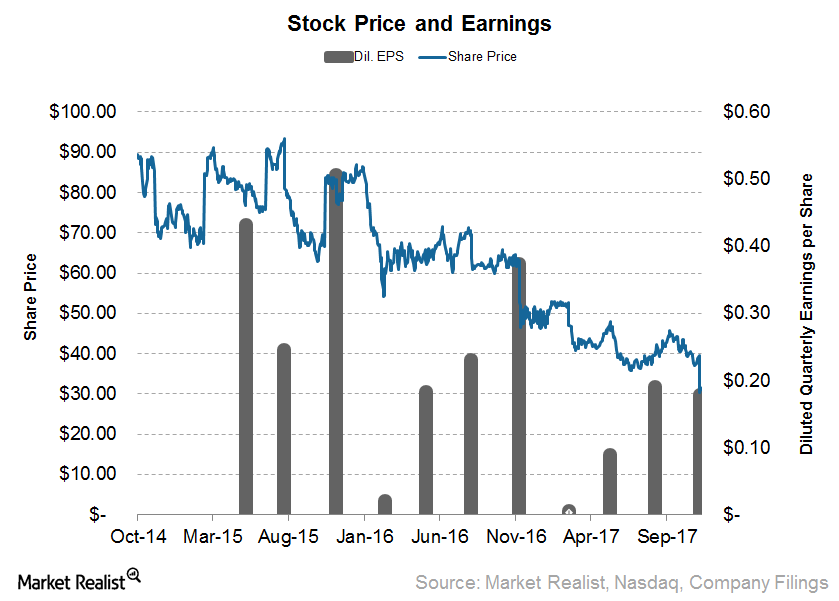 TripAdvisor Stock Continues Its Declining Trend
TRIP stock sees worst decline after 3Q17
TripAdvisor (TRIP) stock saw its worst one-day decline on the release of its 3Q17 results on November 7. The stock fell almost 23.0% on the day.
Priceline, which reported its 3Q17 earnings on November 6, fell ~14.0% on November 7, primarily due to poor guidance for the fourth quarter. For a detailed analysis, please read Priceline Stock Falls 14% after 3Q17 Earnings.
Expedia (EXPE), which reported its 3Q17 results in late October, also saw a 20.0% decline due to poor guidance.
However, TRIP has reversed some of its losses since its 3Q17 report. TripAdvisor stock has gained almost 3.3% from November 8 to November 10.
During that period, Priceline also gained 3.1%, and Expedia gained 0.94%. Ctrip, on the other hand, lost 0.5% during that timeframe.
Article continues below advertisement
YTD performance
Year-to-date (or YTD) through November 10, 2017, TripAdvisor stock has fallen 31.9%, and the recently listed Trivago (TRVG) has lost 35.7%. Rivals Expedia and Priceline are still in the green, although their gains have been sharply reduced.
Expedia (EXPE) has recorded a YTD gain of ~3.6%. China's Ctrip (CTRP) has gained ~14.8% in the same period. Rival Priceline (PCLN) is the outperformer with gains of 16.2% in the same timeframe.
The Consumer Discretionary SPDR ETF (XLY) has risen 13.1% YTD. The S&P 500 SPDR ETF (SPY) rose 15.5% in the same period.