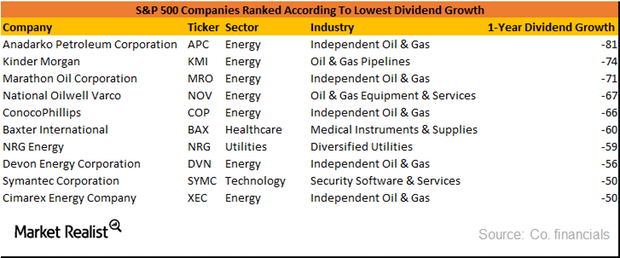 The Top 10 S&P 500 Companies with the Lowest Dividend Growth
Top S&P 500 companies
In this series, we'll discuss the top ten S&P 500 (SPX-INDEX)(SPY) companies with the lowest dividend growth. The chart below depicts the top ten companies in this group that are domiciled in the US. We can see that the energy sector comprises 70% of the list.
Article continues below advertisement
The energy sector and oil and gas industry
The energy sector's dominance on this list is understandable considering the condition of the oil and gas industry. The energy sector has fallen 7.8% on a year-to-date (or YTD) basis and has a dividend yield of 1.7%. The fall of Brent crude prices in 2016 have adversely impacted the oil and gas companies.
According to Moody's Investor Services, the sector still managed 28% growth through greater production, cost-cutting initiatives, and salvage in prices. We should see this recovery in most of the companies covered in this series.
Outlook for the oil and gas industry
According to Deloitte, several factors combined to paint a positive outlook for the industry. These factors include narrowing supply and demand disparities, OPEC's production cuts, and growth in the US and worldwide demand for oil.
Additional factors include adaptability of the oil companies in a lower price environment with a greater focus toward improved capital and operative efficiencies. However, concerns remain in the form of increased production from Iran and US shale oil as well as a huge inventory backlog.
We'll continue our discussion on the sectors in the chart above and compare them with the broad indexes (DJIA-INDEX)(DIA)(COMP-INDEX)(ONEQ) in the next part.
The FlexShares International Quality Dividend Index Fund (IQDF) is a dividend ETF with 9.0%, 7.0%, 6.0%, and 4.0% exposure to technology, energy, utilities, and healthcare, respectively. IQDF has a price-to-earnings (or PE) ratio of 18.7x and a dividend yield of 3.6%.
The WisdomTree Europe SmallCap Dividend ETF (DFE) is a dividend ETF with 9.0%, 5.0%, 3.0%, and 2.0% exposure to technology, energy, healthcare, and utilities, respectively. It has a PE of 14.6x and dividend yield of 2.8%.