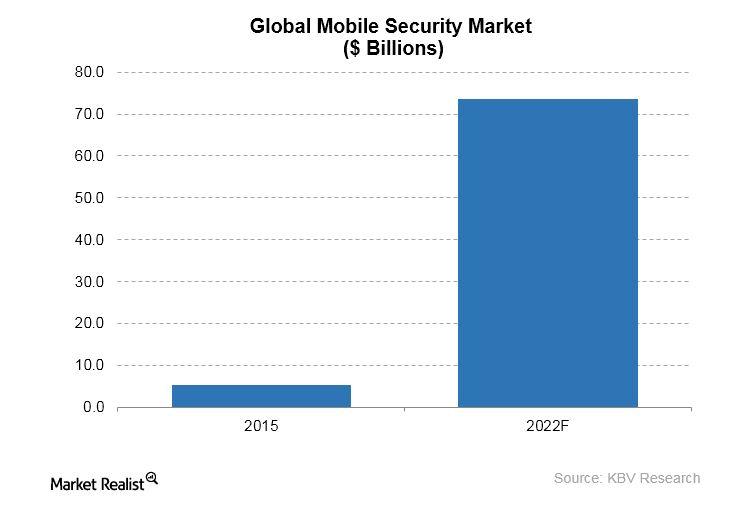 This Market Could Transform Blackberry's Fortunes
Software supplied 77.7% of BB's top line in fiscal 2Q18
As BlackBerry (BB) transitions to software from hardware, software has become its main source of revenues. In fiscal 2Q18 (September quarter), software and services revenues totaled $185 million on a GAAP (generally accepted accounting principles) basis, contributing 77.7% of total revenues for the quarter, compared with 41.3% of total revenues in fiscal 2Q17.
Article continues below advertisement
The $73.5-billion mobile security market
Under its software and services segment, BlackBerry provides mobile security solutions. According to a new report by KBV Research, the global mobile security market could be worth $73.5 billion by 2022 and grow at an average annual rate of 46.6% between 2016 and 2022. The market was worth about $5.4 billion in 2015.
The rapid growth of the mobile security market presents a huge revenue potential for BlackBerry in its software and services business. For a company that generated total revenues of $1.3 billion in fiscal 2017, a major breakthrough in mobile security market could dramatically transform BlackBerry's financials.
BlackBerry invested $60 million in innovation
A look at BlackBerry's cost structure seems to tell the story about how it is preparing for opportunities in the software and services market. In fiscal 2Q18, BlackBerry invested $60 million in product development, compared with $61 million in the prior quarter and $85 million in fiscal 2Q17—a sign that the company plans to keep innovating (QQQ) to strengthen its product portfolio.
BlackBerry had a cash balance of $2.5 billion at the end of fiscal 2Q18, which means that it has the financial flexibility to invest in more innovation to drive more revenue growth. Apple (AAPL) invested $2.9 billion in R&D (research and development) in the September quarter, while Microsoft (MSFT) invested $3.6 billion in R&D, and Alphabet (GOOGL) invested $4.2 billion in R&D during the same period.