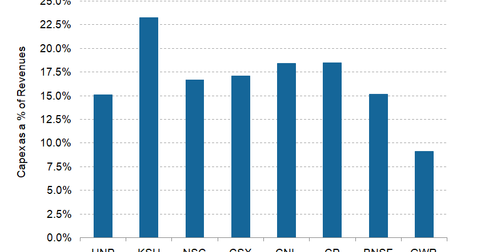 The US Railroad with the Highest Capital Expenditure in 9M17
By Samuel Prince

Updated
Capital expenditure in 9M17
In this article, we'll look at the US railroads' capital expenditure (capex) in the first nine months of 2017. After a subdued performance in 2016, many railroads cut down their proposed capex for 2017. 
US railroads must spend more on capex compared with trucking companies due to track maintenance, replacement, and expansion activities. Maintenance capex consumes up to 50% of railroads' capital spending. On the other hand, growth capex is intended for investment in new railcars and locomotives.
Railroads with positive future growth outlook could spend more on capital expenditure. This, in turn, could fuel their future topline growth. Investors can learn about industry prospects from the property-acquisition patterns of the US railroads. Next, let's look at the railroads' capex trend in 2017.
Which US railroad had highest 9M17 capex?
From the chart above, it's clear that most of the railroads adhered to their 2017 capex outlooks announced earlier this year. Historically, US railroads have kept their capex-to-revenue ratio in the 15%–20% range. 
The chart notes that the capex levels in 2017 and 2016 have been in the historic range, except for the smallest US Class I railroad—Kansas City Southern (KSU). For KSU, this metric was nearly the same during the comparison period at 23.3%. 
KSU has a positive medium-term outlook among the peer group due to its Mexican operations. This US–Mexico rail commerce could start reaping the benefits of the Mexican energy reforms in the near term. 
Norfolk Southern's (NSC) capex metric had fallen marginally to 16.7% in 9M17 from 17.6% in 9M16.
Union Pacific (UNP) and its rival BNSF Railway (BRK-B) have 15.1% and 15.2% capex metrics, respectively, for 2017. Given the scale of their operations, their capex ratios are on the lower side of the historic levels. BNSF's capex ratio fell 4.7% this year—the highest among its peers.
Why GWR has lowest capex levels
BNSF was followed by Canadian National Railway (CNI), which saw its capex metric fall to 18.4% in 9M17 from 23% in 9M16. 
Worldwide rail operator Genesee & Wyoming (GWR) has the lowest capex ratio of 9.1% in the peer group. Because the company engages extensively in acquiring Class II and Class III railroads, its capex metric is on the lower side.
Because the US railroad (XTN) industry is cyclical, these railroads are recovering from the 2016 freight volume crisis. Appropriate levels of debt boost earnings and support the stocks' upward momentum. We'll examine their debt levels in the next part.